Movie Photos
First Look at Hugh Jackman and the Robots in Real Steel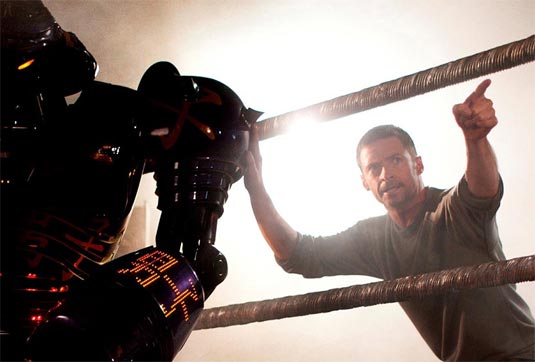 Hugh Jackman
's futuristic film directed by
Shawn Levy
(Date Night, Night at the Museum)
Real Steel
has had its first image released via
USA Today
. The film co-stars
Anthony Mackie
,
Evangeline Lilly
,
Dakota Goyo
as Jackman's young son,
Hope Davis, James Rebhorn, Kevin Durand
and
Olga Fonda
.
Real Steel
is set in the near future (the year 2020), and has Jackman playing a former boxer who, along with his estranged son Max (Goyo), tries to make it in the lucrative world of robot boxing.
Real Steel, Hugh Jackman and director Shawn Levy
Here's the official synopsis: A gritty, white-knuckle, action ride set in the near-future, where the sport of boxing has gone hi-tech, "Real Steel" stars Hugh Jackman as Charlie Kenton, a washed-up fighter who lost his chance at a title when 2000-pound, 8-foot-tall steel robots took over the ring. Now nothing but a small-time promoter, Charlie earns just enough money piecing together low-end bots from scrap metal to get from one underground boxing venue to the next. When Charlie hits rock bottom, he reluctantly teams up with his estranged son Max (Dakota Goyo) to build and train a championship contender. As the stakes in the brutal, no-holds-barred arena are raised, Charlie and Max, against all odds, get one last shot at a comeback. The film was written by
Leslie Bohem
and
John Gatins
and is based on a short story by
Richard Matheson
. Filming on
Real Steel
is currently taking place in Michigan, with the film set for release on 18 November, 2011.
Real Steel, Hugh Jackman