Movie Photos
First Look At Josh Duhamel & Julianne Hough In SAFE HAVEN!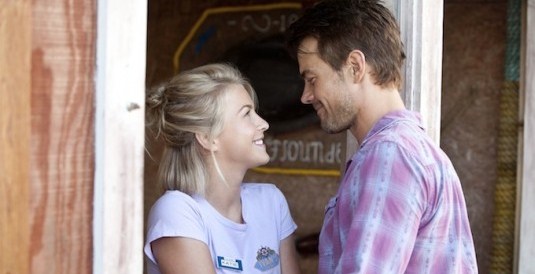 Fall in love, struggle with some dark secrets…
what's safe about that? Have no idea, but I guess that we'll soon have our chance to find that out because
Safe Haven
is coming! The movie, which stars
Josh Duhamel
and
Julianne Hough
in the leading roles, comes from director
Lasse Hallström
and looks pretty cool at this moment to me. Maybe because Duhamel and Hough are smiling and hugging and doing all that romantic shit in these photos? Don't know, take a look! So,
Safe Haven
is based on the
Nicholas Sparks
novel of the same name and will tell us the story about a young woman's struggle to find love again after she arrives in a small North Carolina town. Her reluctance to join the tight-knit community raises questions about her past. Slowly, she begins putting down roots, and gains the courage to start a relationship with Alex, a widowed store owner with two young children. But dark secrets intrude on her new life with such terror that she is forced to rediscover the meaning of sacrifice and rely on the power of love in this deeply moving romantic thriller. Anyway,
Safe Haven
also stars
Cobie Smulders
and
David Lyons
and Relativity Media will release the movie on February 14th, 2013. So, how does it look to you?