Movie Photos
First Look: Jesse Eisenberg In Richard Ayoade's THE DOUBLE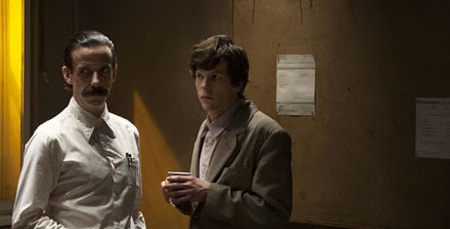 Here's a first look at the sophomore effort from Submarine helmer
Richard Ayoade
,
The Double
, a contemporary America-set update on the short story by Fyodor Dostoevsky.
Jesse Eisenberg
(Now You See Me) and
Noah Taylor
(Submarine) feature in these photos that boast an intriguing dreamlike atmosphere. Co-written by Ayoade and Harmony's bro
Avi Korine
, The Double co-stars
Mia Wasikowska, Wallace Shawn, Rade Serbedzija, Yasmin Pa
ge and
Cathy Moriarty
. The story follows a clerk (Eisenberg) whose life is turned upside down the day he meets a perfect doppelganger who will furthermore strive to destroy his life and send him into madness. The Double is the type of film that will be a headline grabber and buyer must. No release date yet, but this modern retelling of Dostoyevsky's novella will probably hit the festival circuit next year. Check out the images with incredibly styled lighting.
Source:
Cinema Teaser