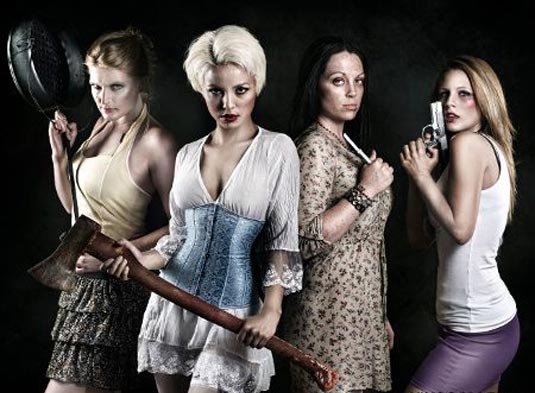 I'm not sure if we previously talked about this project, but here we are to make things up.
We have the first trailer and two pretty cool posters for the upcoming Deranged movie, which comes from director Neil Jones.
The movie looks totally spanish, (which is logical since it was shot in Spain), and it has quite interesting cast on board.
Written by Oscar Carrión, the movie centers on four girls who go on a bachelorette party weekend to a country house, in rural Spain. Little did they know what someone had planned for them.
The sweet party turns sour when the host is mysteriously attacked and one by one, the guests must fend off an unknown assailant. The race is on to uncover the killer's identity. It seems the only choice is to fight back or be brutally murdered.
As you already have a chance to see from this trailer, the whole thing definitely looks intense and creepy at the moments.
Dear God, is this a horror movie? I have no idea where to list it, after all they just say it's an upcoming indie which comes from EnMar Productions team.
Deranged stars Craig Fairbrass, Marcia Do Vales, Natalia Celino, Victoria Broom, Tabby Quitman and Pablo Olewski.
Still nothing about the release date, so in case you liked this trailer – stay tuned for more info!
[youtube]http://www.youtube.com/watch?v=PfI9VuuqKts[/youtube]