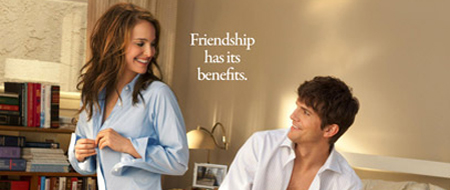 The first poster for
Ivan Reitman
's
No Strings Attached
has been released. Let's see, a guy and girl try to keep their relationship strictly physical, but it's not long before they learn that they want something more. Ok, we could say nothing particularly special, but don't forget that the movie has fantastic
Natalie Portman
. She has five movies due in the next six months:
Black Swan, Hesher, Your Highness, Thor
and this comedy. Working opposite
Ashton Kutcher
, Portman stars that girl who engages in a casual affair with her friend. In the Reitman's upcoming romantic comedy written by
Elizabeth Meriwether
, Portman and Kutcher's characters are best friends who decide to embark on a relationship of casual sex. Their friends with benefits plan gets a little complicated when one of them starts to fall in love with the other and yearns for a real relationship. Director Reitman said that the movie speaks to the kinds of sexual relationships young people have today: "I noticed from my own kids that with this generation in particular, young people find it easier to have a sexual relationship than an emotional one. That is how the sexes deal with each other today." The movie also stars
Olivia Thirlby, Greta Gerwig, Ophelia Lovibond, Lake Bell
,
Kevin Kline
and
Cary Elwes
among others.
No Strings Attached
comes to theaters January 21st, 2011.