Movie News
First Official Promo Pic Of The Cast Of Sofia Coppola's THE BLING RING Starring Emma Watson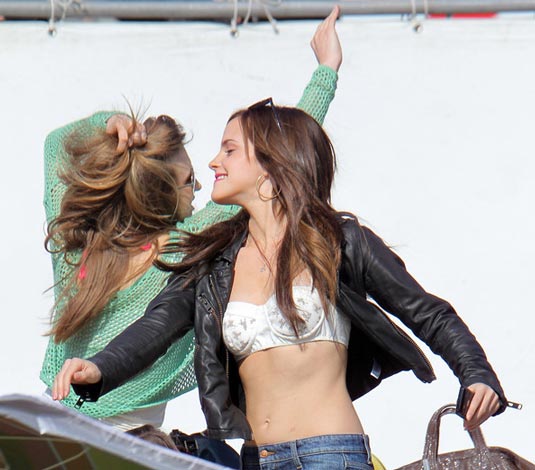 While the Cannes Film Festival may be the place where the finest authors from around the world come to unveil their latest babies, the other side of the coin is the robust market where distributors and producers hawk their wares to buyers, hoping to sell foreign rights for their pictures. In order to help get contracts drawn up and cheques signed, clips, featurettes or entire movies may be shown, but if those aren't ready, sometimes a still from the movie will have to suffice. And somewhere in that vast market the first official photo of the cast of
Sofia Coppola
's
The Bling Ring
has seen the light of day (and/or spotlights). We've already seen numerous set photos but this is the first with the gang of teenage thieves all paired up together.
Emma Watson
leads the cast in the tale based on a true story, of a group of affluent teenagers who pulled off some daring heists of celebrity homes, including those of Lindsay Lohan, Rachel Bilson, Megan Fox and Orlando Bloom, taking up to $3 million worth of goods.
The cast is mostly rounded out by up-and-comers including
Israel Broussard
,
Taissa Farmiga
(from the fantastic series American Horror Story)
Katie Chang
,
Claire Pfister
,
Georgia Rock
and
Carlos Miranda
, with
Leslie Mann
also on board and
Paris Hilton
,
Kirsten Dunst
and
Gavin Rossdale
having filmed cameos. Lensing took place earlier this year, but no word on a release date. Stay tuned for more!