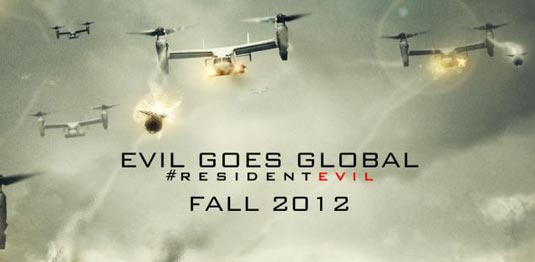 So, as you see, we finally have the first poster for the upcoming
Resident Evil: Retribution
movie and I think it looks pretty cool actually. I mean, what's wrong with a little destruction? Anyway, check it out for yourselves.
Paul W.S. Anderson
's movie will this time center on Alice, played by
Milla Jovovich
, who awakens in the heart of Umbrella's most clandestine operations facility and unveils more of her mysterious past as she delves further into the complex. Of course, she will then continue to hunt those responsible for the outbreak. But what I'm definitely excited about is this part of the official synopsis: "a chase that takes her from Tokyo to New York, Washington, D.C. and Moscow, culminating in a mind-blowing revelation that will force her to rethink everything that she once thought to be true. Aided by newfound allies and familiar friends, Alice must fight to survive long enough to escape a hostile world on the brink of oblivion." The rest of the cast includes
Michelle Rodriguez, Sienna Guillory, Kevin Durand, Shawn Roberts, Colin Salmon, Johann Urb, Boris Kodjoe, Li Bingbing
and as you already know, the movie will open on September 14th, 2012.