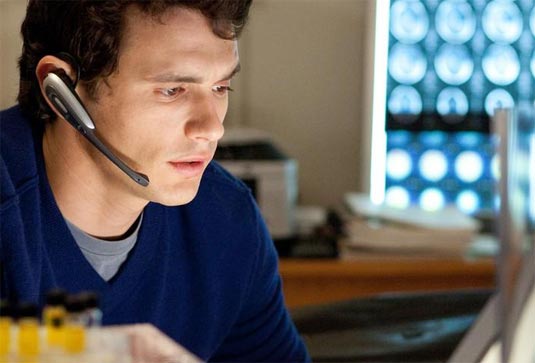 A first official photo of Oscar nominated James Franco (127 Hours) in Rise of the Apes", the upcoming prequel to Planet of the Apes, is now online.
Franco stars as young scientist Will Rodman, who makes a breakthrough while studying the development of intelligence in apes. His subject, Caesar (played by Andy Serkis via mo-cap technology), is innocent enough at first but eventually launches a war for supremacy of the planet. John Lithgow and Freida Pinto play Franco's Alzheimer's-stricken father and primatologist Caroline respectively. Tom Felton is additionally cast in the film.
The story is set in contemporary San Francisco.
Rise of the Apes, directed by Rupert Wyatt, hits theaters November 23rd, 2011 next to Hugo Cabret, Arthur Christmas, The Muppets, and Project X.