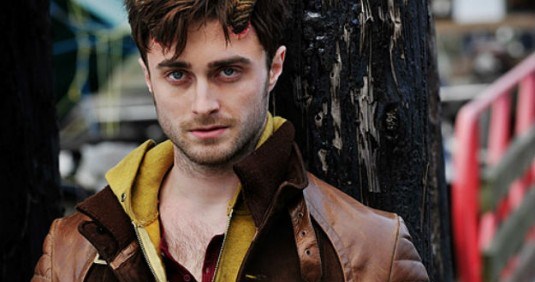 Daniel Radcliffe is one cute guy. Even when he looks like a devil! We have the first set photo from the upcoming Horns movie, where Radcliffe stars as the guy who has… well horns on his head. Alexandre Aja is directing the movie which is already being described as a supernatural thriller driven by fantasy, mystery and romance. Horns is based on Joe Hill's novel of the same name, and the movie centers on Radcliffe's character, a 26-year-old man named Ig Perrish who wakes up one morning from a blackout hangover and finds horns sprouting out of his head. As the horns grow bigger by the day, he finds himself accused of the rape and murder of his girlfriend. What's more, the horns seem to give him his own set of supernatural abilities, forcing anyone to tell the truth or give into brutal urges. Juno Temple is also on board to play the above mentioned girlfriend named Merrin, while the rest of the cast includes Joe Anderson, Kelli Garner, Max Minghella and James Remar. At the end of this report, here's something about this project straight from Radcliffe:
It's a very, very different type of part than anything I've done before. To play somebody who, in the midst of a time in his life of great turmoil anyway, undergoes this horrific transformation into a devil character – it was very, very exciting.
I'm excited, too! Can't wait to see more from this movie! In the meanwhile, here's the first set photo thanks to EW!