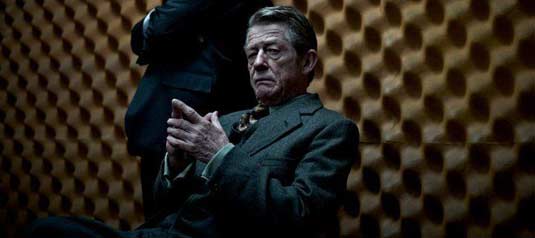 Do I really have to write something spectacular about Tinker Tailor Soldier Spy? I don't think so. Let the cast speak for itself!
I mean, really guys, when we have Gary Oldman, Colin Firth, Tom Hardy, John Hurt, Toby Jones, Mark Strong and Benedict Cumberbatch all in one project, which is by the way directed by Tomas Alfredson, what can we expect? I guess – only the best.
And that's exactly why you should definitely check out the first clip from this project! Especially if you're Hurt's fan, because that man has a lot of smart spy – things to say!
As you already know, the whole thing is based on the classic novel of the same name, and the international thriller is set at the height of the Cold War years of the mid-20th Century.
George Smiley (Gary Oldman), a disgraced British spy, is rehired in secret by his government – which fears that the British Secret Intelligence Service, a.k.a. MI-6, has been compromised by a double agent working for the Soviets.
Just for a record, Tinker Tailor Solider Spy will soon premiere in Venice, then it will open in the U.K. on September 16th and then it will hit the U.S. theaters on December 9th.
Do I really have to ask – what do you think?
Guess no.
Tinker Tailor Soldier Spy Clip #1