Movie Photos
Fist Look: Clint Eastwood in Baseball Film TROUBLE WITH THE CURVE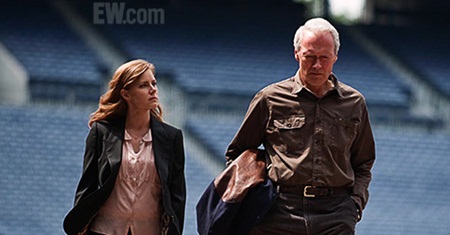 How Clint Eastwood will look like on his way to acting comeback in a big way has been unveiled via Entertainment Weekly. Eastwood plays an Atlanta Braves scout Gus in Robert Lorenz' Trouble with the Curve, his first role since 2008s Gran Torino; it will also be the first time since 1993s In the Line of Fire, notable for being Eastwood's last role in which he wasn't also directing. Gus has a vision problem and his daughter, Mickey (Amy Adams), unwillingly agrees to be his eyes on a crucial recruiting trip. Director Lorenz explains:
They're having trouble communicating. They always have, and now they've come to a point in the relationship where it's either going to change or it's not. He needs a little help, and she decides it's worth the effort.
The film also stars Justin Timberlake as a young rival scout who respects Gus and develops feelings for Mickey, John Goodman as the Braves' and Gus' boss who recognizes that Gus is at risk of losing his job, and Matthew Lillard as a recruiter who clashes with Gus over a green power hitter named Bo Gentry (newcomer Joe Massingill), so the vet goes on a road trip to follow Gentry and gather more information. Randy Brown wrote the script for Trouble with the Curve that Warner Bros round the bases on September 21st, 2012. Hit the jump to check out the images which features Eastwood alongside Adams and Timberlake.