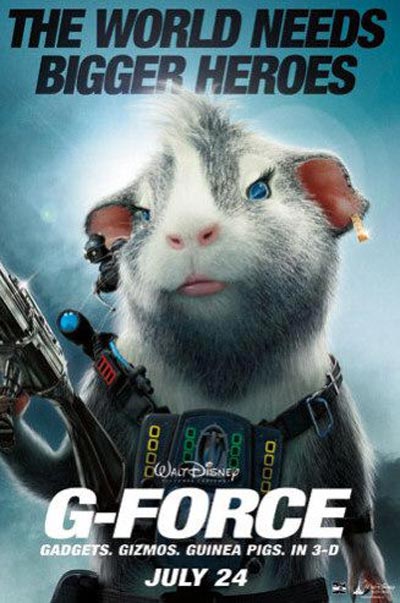 A brand new posters for 3-D animated Walt Disney Pictures film "G-Force " have been released.

Producer Jerry Bruckheimer brings his first 3-D film to the big screen with "G-Force," a comedy adventure about the latest evolution of a covert government program to train animals to work in espionage. Armed with the latest high-tech spy equipment, these highly trained guinea pigs discover that the fate of the world is in their paws. Tapped for the G-Force are guinea pigs Darwin (voice of Sam Rockwell), the squad leader determined to succeed at all costs; Blaster (voice of Tracy Morgan), an outrageous weapons expert with tons of attitude and a love for all things extreme; and Juarez (voice of Penelope Cruz), a sexy martial arts pro; plus the literal fly-on-the-wall reconnaissance expert, Mooch, and a star-nosed mole, Speckles (voice of Nicolas Cage), the computer and information specialist.

Directed by two-time Oscar-winning visual effects master Hoyt Yeatman-"G-Force" takes audiences on a high-octane thrill ride, proving once and for all that size really doesn't matter. Starring Nicolas Cage, Bill Nighy, Will Arnett, Zach Galifianakis, Sam Rockwell, Jon Favreau, Penelope Cruz, Steve Buscemi and Tracy Morgan. "G-Force" opens to theaters on July 24th.