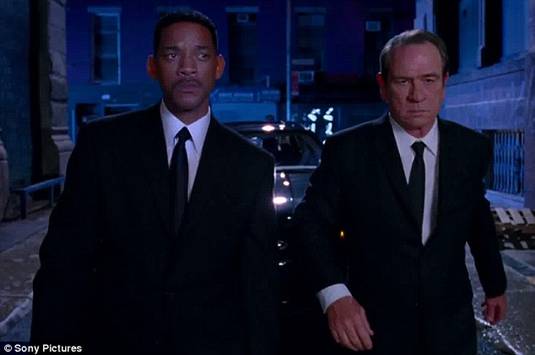 The next comic book adaptation to hit the theaters this summer movie season,
Men in Black 3
is based on the short-lived comic book from Aircel Comics created by Lowell Cunningham. Here's a brand new TV trailer for the upcoming
Barry Sonnenfeld
's film, starring
Will Smith, Tommy Lee Jones, Josh Brolin, Jemaine Clement, Emma Thompson, Nicole Scherzinger, Alice Eve
and
Michael Stuhlbarg
. Initially it seems nothing has changed too much in the clip called 'Who are you and what do you want,' and it features Brolin's Agent K asking Smith's Agent J who he is and what he knows. From a screenplay written by
Ethan Cohen, Steven Spielberg
is set to executive produce the third of the MIB franchise which hits theaters on May 25th, 2012. Synopsis:
In Men in Black 3, Agents J (Will Smith) and K (Tommy Lee Jones) are back… in time. J has seen some inexplicable things in his 15 years with the Men in Black, but nothing, not even aliens, perplexes him as much as his wry, reticent partner. But when K's life and the fate of the planet are put at stake, Agent J will have to travel back in time to put things right. J discovers that there are secrets to the universe that K never told him — secrets that will reveal themselves as he teams up with the young Agent K (Josh Brolin) to save his partner, the agency, and the future of humankind.
[youtube]http://www.youtube.com/watch?v=iOKETLSGbcc[/youtube]