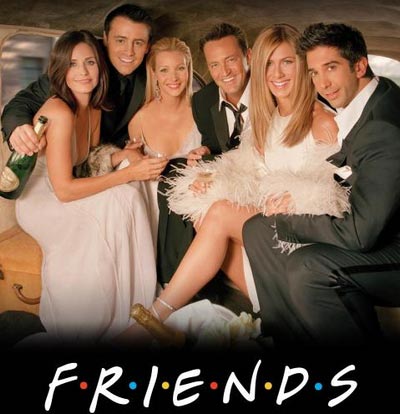 TheDailyMail is reporting that the hit TV series "Friends" has been greenlit to be turned into a feature film. The Friends TV show ran from 1994 to 2004, wrapping up with a final show that drew a US audience of 52.5m. The show made household names of the cast, all of whom have gone on to enjoy fitfully successful solo careers. Some sources even suggest that the cast – Jennifer Aniston, Courteney Cox, Lisa Kudrow, David Schwimmer, Matthew Perry and Matt LeBlanc – have already signed on to make the film. "The box office success of "Sex and the City" has really got their wheels spinning about how a Friends film could be just as big," says an unnamed insider. "Jennifer, Courteney and the rest of cast are keen to reprise their roles, under the right circumstances." The source said:
"As the biggest star of the Friends franchise, Jennifer can't help but look at what's happened with Sarah Jessica Parker and the Sex and the City film and be a little jealous. What's held back a Friends movie so far is that people were worried that Jennifer had simply become too famous to play Rachel again. "But the truth is that Jennifer is finally willing to do it, and she'd love to work with that whole team of actors and producers again. She says she and Courteney have already talked this summer about what they want out of a Friends movie, and if deals can be made with them, everything else can fall into place rather quickly. "It really comes down to money, and I don't think Jen has a problem with all of the Friends getting huge paydays for the movie. In that sense, it's "Sex And The City" all over again. There's no movie unless you can reunite the whole cast and keep them all happy financially."
The news comes just one month after it was revealed Cox's controversial TV drama Dirt was cancelled by network bosses at FX after just two seasons.