Movie Posters
G.I. JOE: RETALIATION Two Posters And Cobra Recruitment Video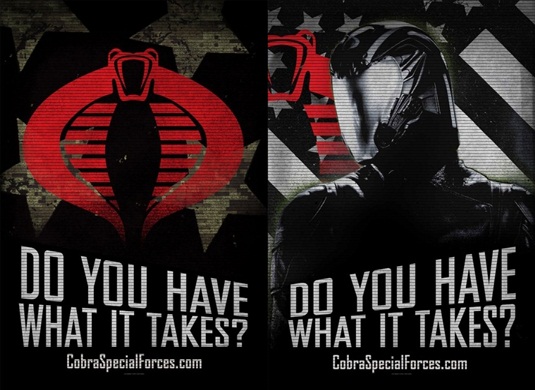 After pushing almost a year from
G.I. Joe: Retaliation
's initial 2012 release date Paramount has just released a couple of recruitment propaganda posters along with recruitment video for Cobra. If you know GI Joe tradition you'll know that Cobra are 'the bad guys,' but this video isn't telling you that at all, because here, they're an army like any other army. Sometimes, it's fun to play the bad guy at Paramount. [youtube]http://www.youtube.com/watch?v=a6wFpovHtnc&feature=player_embedded[/youtube] Directed by
Jon M. Chu
, the film based on Hasbro's iconic toy line will show what the members of G.I. Joe (
Channing Tatum, Dwayne Johnson, Bruce Willis
, etc.) will have to do to stop Cobra from taking over the world. The newly-converted-to-3D G.I. Joe Retaliation opens everywhere on March 28th, 2013. Also check out cool posters for the upcoming sequel which pose a serious question.
Here's the synopsis:
A follow-up to the 2009 release of G.I. JOE: THE RISE OF COBRA, which grossed over $300M worldwide, Paramount Pictures, MGM and Skydance Productions, in association with HASBRO and di Bonaventura Pictures, commences production on G.I. JOE: RETALIATION. In this sequel, the G.I. Joes are not only fighting their mortal enemy Cobra; they are forced to contend with threats from within the government that jeopardize their very existence. The film stars D.J. Cotrona, Byung-hun Lee, Ray Park, Adrianne Palicki, Jonathan Pryce, RZA, Ray Stevenson, Channing Tatum with Bruce Willis and Dwayne Johnson. Directed by Jon M. Chu, and produced by Lorenzo di Bonaventura and Brian Goldner, from a screenplay by Rhett Reese & Paul Wernick based on Hasbro's G.I. Joe(R) characters.