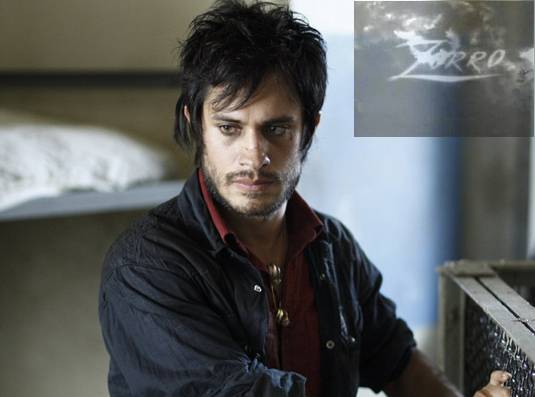 Hola amigos, it's not breaking news that Zorro is getting a new film.
Zorro Reborn
was
first announced
in April of last year. 24 Frames has been reported Fox would make a radical move to replace old California / Mexico with a post apocalyptic wasteland. Rather than being a smooth character leading a double identity, playboy Don Diego de la Vega and the rogue Zorro, the new character will not be liberating the peasants from the repressive Spanish, but instead be a serious vigilante. 24 Frames also said that previsualization expert Rpin Suwannath (X-Men, Narnia films, Superman Returns) would helm from a script by
Lee Shipman
and
Brian
McGreevy
, the duo behind Warner Bros.' upcoming Dracula film Harker. Unfortunately, he seems to no longer be attached to the project and the hunt is on for a new helmer. But fortunately, the Science of Sleep star,
Gael Garcia Bernal
will play the legendary masked avenger in 20th Century Fox's futuristic take on the character. Shooting will probably take place this year. Gael Garcia Bernal has built up a resume of noteworthy performances since his breakthrough role in Alfonso Cuaron's Y Tu Mama Tambien, having appeared in Michel Gondry's The Science of Sleep, Alejandro Gonzalez Inarritu's Babel, Jim Jarmusch's The Limits of Control and The Motorcycle Diaries, where he portrayed Argentine Marxist revolutionary Che Guevara. He's rumored to have a role in Martin Scorsese's upcoming Silence, and will next be seen opposite Will Farrell in Casa de mi Padre, opening March 16th, 2012 and is currently in production on director Pablo Larraín's No. Meanwhile, Sony is developing its own another reboot of the character with an origin story based on the 2005 novel Zorro. Stay tuned.