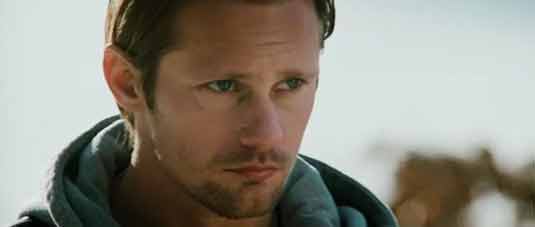 I'm sure you all remember this project, and that's exactly why we're here today. We have a little update on the upcoming
Gela Babluani
's
13
, and I'm sure you're going to love it. After all, we have a great cast involved in this English-language remake of the 2005 French movie
13 Tzameti
. In case you forgot,
Alexander Skarsgard, Sam Riley, Jason Statham, Curtis 50 Cent, Jackson, Ray Winstone
and
Mickey Rourke
all star in 13, which opens in limited theaters on October 28. So, we have an exclusive clip from 13 (thanks to ComingSoon), and ok, I admit, nothing spectacular in here. Just a warning that, when you have a card with number 13, you should never give a cell phone to a stranger. Or something like that.
Whatever, let me remind you that the movie centers on Vince Ferro (Riley), a man in desperate circumstances. While on a quick fix-it job, he steals an envelope containing instructions for a mysterious job that promises a potential fortune. He assumes a false identity and follows the instructions, only to find himself a numbered participant in an underworld Russian roulette competition, where gamblers place bets on who'll survive when the trigger is pulled. The stakes are high, but the payout is more than he can resist. Many are competing for the first time, and a precious few have even returned to play again, but are his odds any better than other players in this most deadly game? What will it take to be the last man standing? As long as they don't take him a cell phone again – it's fine.