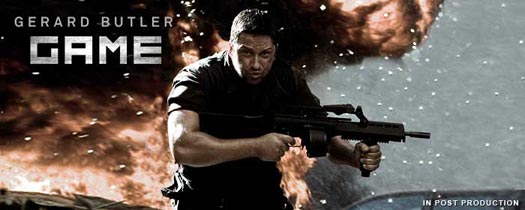 A new shot of Gerard Butler from the upcoming "Game" movie has become available.
Written and directed by "Crank" creators, Mark Neveldine and Brian Taylor, the film stars Gerard Butler as the consummate player of a virtual game with some pretty heavy real-life consequences.
The story is "set in a dystopian future of implanted nano-devices, where the ultimate online simulation environment is humans remote-controlling other humans in mass-scale, multi-player online gaming. The lead character, played by Butler, is a worldwide sensation, and the top-ranked warrior in a game called "Slayers." With his every move tracked by millions, he battles to regain his identity and bring down the entire system". Joining Butler are Kyra Sedgwick (The Closer) and Dexter's Michael C. Hall as the game's evil creator.
"Game" is out in 2009.