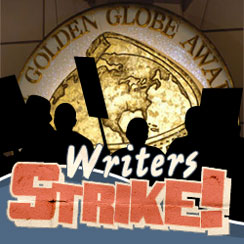 It looks like the announcement of the winners will actually include stars, all dressed up, accepting their awards, but without speeches, montages and the rest of the hubbub. Still no red carpet, sadly. We'll wait for the official announcement before doing a full report.
This just in: The news keeps changing all the time, but it's looking now like the Golden Globes will take more of a form like a press conference, with the Hollywood Foreign Press announcing the winners, but with no stars in the room. They'll instead be at their various parties watching the announcements, and we may or may not get to watch their reactions. Confused? Join the club. Nikki Finke at Deadline Hollywood has the full information, and this tentative schedule from NBC:
"At 9 PM there will be a press conference covered by NBC News announcing the Golden Globe winners. (9pm-10pm). At 8 PM, we are negotiating with Dick Clark Enterprises for a one-hour retrospective/clip show. At 7 PM, we will air a Dateline with clips and interviews with nominees. (Currently scheduled to air for two hours on Saturday night.) At 10 PM, we will broadcast an "Access Hollywood" style, Golden Globes party show…visiting the various parties in Hollywood." Man, way to take the air out of the glamour balloon, WGA. As you probably heard, the WGA was planning the picket the Golden Globes if they were televised, given that NBC and Dick Clark Productions are struck companies. SAG recently told all of its members, a.k.a. all of the acting nominees, that they would be considered strikebreakers if they attended. Basically a full televised ceremony was no longer an option, but why cancel the whole shebang? Did the Hollywood Foreign Press just not want to spend the money without the added publicity?
We're still waiting for official word from the honchos, but for now except a Golden Globes ceremony that looks more like C-SPAN, with more attractive people sitting around not doing much at all.