Movie News
Gossip Girl's Katie Cassidy in Talks to Star in Freaky Deaky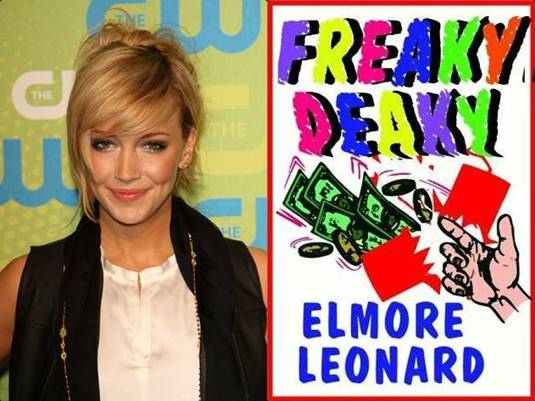 Gossip Girl's Katie Cassidy has been tapped to join the cast of Charles Matthau's Elmore Leonard adaptation of Freaky Deaky crime novel. Cassidy will play ex-hippie Robin Abbott. Matt Dillon, Brendan Fraser and Craig Robinson are also attached to star.
The offenders in this case are two ineffective 1960's characters who did time for blowing up federal property during the height of the anti-Vietnam War agitation. One is a still very attractive but resentful woman named Robin Abbott (Katie Cassidy). She has assumed that she and her partner, Skip Gibbs (Brendan Fraser), now a Hollywood stuntman, have learned of two associates in the old movement; one of them, Woody Ricks, has since received his share of an estate worth around one hundred million dollars. Robin wants Skip to help her fright Woody out of a portion of his money by setting a few bombs off.
The hardboiled Chris Mankowski (Matt Dillon), wants nothing more to do with bombs. He is trying to get out of the Detroit Police Department Bomb Squad into a little bit more calm department such as Sex Crimes or Homicide, but he is accidentally drawn into the picture when he befriends a sexy young actress who claims she was raped by the despicable Woody Ricks. Before the story is over, they all have to deal with Woody's groom bodyguard Donnell Lewis (Craig Robinson), ex-Black Panther who has his own sights set on Woody's millions.
Charles Matthau (actor Walter Matthau's son), who has also wrote the script and will produce, is currently looking to replace William H. Macy who has previously committed to play Woody Ricks, the hard-partying Hollywood mogul, but since has dropped out of the project.
The film based on Elmore Leonard's 1988 best seller is scheduled to begin production next week in Michigan. It will be the 14th time a Leonard novel has been adapted for the silver screen.
As for Cassidy (the daughter of actor David Cassidy ), she recently featured in A Nightmare on Elm St. and Taken, and will next star alongside Selena Gomez and Leighton Meester in Fox 2000's Monte Carlo, which flies into theaters on July 1.
Check out the trailer for Monte Carlo, a movie with Katie Cassidy among the others.
[youtube]http://www.youtube.com/watch?v=FHpqfFpKi_g[/youtube]
Monte Carlo – Trailer