Movie News
Hailee Steinfeld to Replace Lily Collins in Carlo Carlei's Romeo and Juliet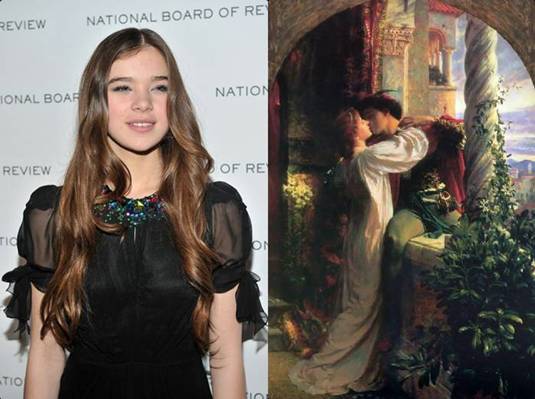 Oscar nominee Hailee Steinfeld is in talks for a new big screen version of Romeo & Juliet that has a fresh script by distinguished writer Julian Fellowes.
This latest adaptation will be directed by Carlo Carlie who is probably best known for 1993's Flight of the Innocent, Golden Globes Foreign-Language Nomenee, but who also directed the 1995 ghost dog movie Fluke with Samuel L. Jackson starring.
Carlei has said the film will be set in classic Shakespearan era and will bring the iconic characters to life for a new generation that doesn't have its own version yet.
The indie adaptation is scheduled to start shooting in Italy later this spring with a budget around $15 million, but that doesn't mean some big name thesp won't be attached to the project. No suggestions yet on who might play Romeo – I'm sure some young Justin Bieber fans are slathering a big heap.
As first post-Oscar role young actress got attached to the Paramount's romantic YA thriller Forgotten which sounds like outstanding Nolan's Memento and was part of a Sleeping Beauty movie idea that went around Hollywood, but no final decisions had been made. Now, the True Grit princess looks booked in another old tale – nevertheless, it's obvious they looked for a young girl, since Juliet is like 13 years old in the original screenplay. Lily Collins was before rumored to play the same role.
Gosford Park writer Julian Fellowes is behind the screenplay, and Seven Pounds director Gabriele Muccino is producing.
Check out the trailer for Shakespeare's famous play, updated to the hip modern suburb of Verona still retaining its original dialogue – of course, Luhrmann's Romeo + Juliet with young Leonardo DiCaprio and Claire Danes starring.
[youtube]http://www.youtube.com/watch?v=MytPXhHXlaM[/youtube]