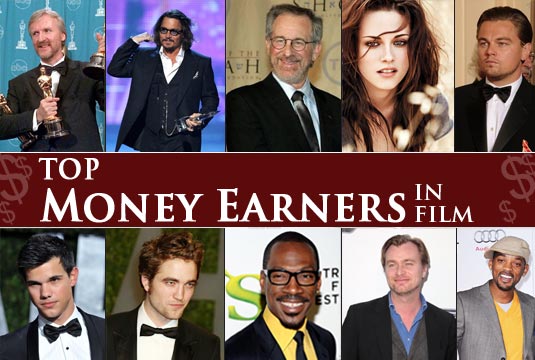 James Cameron
, a Canadian film producer/director, won the No. 1 position on the film industry's top-earners list, making him Hollywood's richest man in 2010, according to a new list of film industry top-earners, which excludes TV and other non-film–related income. The
Avatar
writer, producer and director made $257 million last year, mostly from Pandora-related box office and DVD sales and associated licensing. No doubt, big-time directors are the biggest money makers. Last year Michael Bay crossed the $100 million mark. This year, by the time Avatar plays out on broadcast television, James Cameron will make close to $350 million.
Johnny Depp
was selected for the second place on the list of top-earning stars, directors and producers. The list estimated Depp's pull for the year at $100 million. That broke down as $40 million for
Alice in Wonderland
, $35 million for
Pirates of the Caribbean: On Stranger Tides
and $20 million for
The
Tourist
co-starring. On a third position is another mega director/producer, the never-ending
Stiven Spielberg
, of course. His estimate 2010 earnings were around $80 million of which $50 million came from Universal-theme-park royalties and consulting fees.
Kristen Stewart
ranked No. 13 with a $28.5 million taking, making her the top-earning woman of the six who obtained a spot on this year's list. Stewart's
Twilight
costars
Taylor Lautner
(No. 9; $33.5 million) and
Robert Pattinson
(No. 15; $27.5 million) also scored major real estate on the list. Speaking of how did Taylor Lautner find his way in Hollywood's top 10 earners, editor Peter Newcomb said:
He's perhaps the highest-paid teenage star right now. When they first negotiated their contracts, they were getting paid a lot less. Then, with the immense success of the film, the agents went back and renegotiated the deal.
Eddie Murphy
seated the bottom No. 40 with estimated earnings of $13 million, including a bonus for
Shrek Forever
. Other remarkable filmmakers and actors of Vanity Fair's "Top 40" for the Jan. 2010 to Jan. 2011 period:
Inception
writer/director/producer
Christopher Nolan
(No. 4; $71.5 million) and star
Leonardo DiCaprio
(No. 5; $62 million);
Will Smith
(No. 11; $29 million);
Blind Side
star
Sandra Bullock
(No. 22; $22 million). Taylor Lautner stated about nature of Hollywood, instead of a conclusion:
What it tells you is that the studios are still paying people. They like to spread the story that they're reining in costs, and that's true. But what they're really doing is making less movies. While they're spending less, they're still paying the stars—to make less movies. As this list testifies, it's easy for a big-time star to have a monster year.
Click here for the
full list.