Movie Photos
Alexandre Aja's HORNS Reveals First (Official) Pics With Daniel Radcliffe & Juno Temple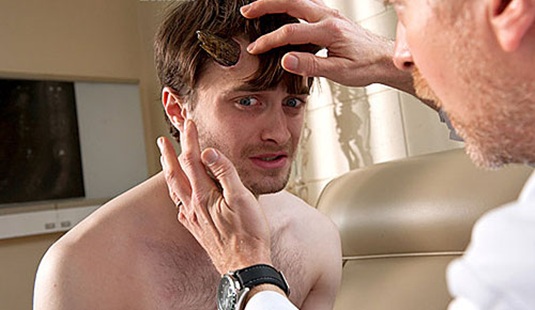 We already had a little
chat
about
Alexandre Aja
's dark fantasy thriller
Horns
, which is (unfortunately) still without an official release date. But, the good thing is that the movie will have it's world premiere at this year's TIFF, and that we finally have some official images to share with you. You already know what that means – time to check out
Daniel Radcliffe
aka Ig Perrish and his girlfriend Merrin, played by
Juno Temple
!
Aja directed the whole thing from a script written by
Keith Bunin
, but as you probably remember, the movie is based on
Joe Hill
's novel of the same name. It revolves around Radcliffe's character, a guy named Ig Perrish who, accused of the rape and murder of his girlfriend, uses newly discovered paranormal abilities in his pursuit to uncover the real killer.
Or, if you prefer the official synopsis:
Hungover from a night of hard drinking, Ig awakens one morning to find horns starting to grow from his own head and soon realizes their power drives people to confess their sins and give in to their most selfish and unspeakable impulses – an effective tool in his quest to discover the true circumstances of his late girlfriend's tragedy and for exacting revenge on her killer.
Beside Radcliffe and Temple, the rest of
Horns
cast includes
Joe Anderson
, Kelli Garner,
Max Minghella
, and
James Remar
. Let us know what you think about these new images (via
EW
) and make sure you stay tuned for more updates. We're definitely ready for an official trailer,
hope you agree
?