'
Hunger
' is showing at the
Cannes Film Festival 2008
, opening the '
Un Certain Regard
' category, from British director
Steve McQueen
, the artist who hit the headlines recently with his design for a postage stamp that replaced the Queen's head with the faces of soldiers killed in Iraq.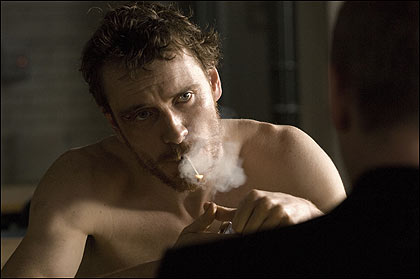 Turner Prize-winnng British artist Steve McQueen makes his big-screen debut with Hunger, an account of the 1981 hunger strike in Northern Ireland's Maze prison. The film follows the last six weeks in the life of Republican Bobby Sands, who died during the strike. It plunges viewers into the world of the early 1980s H-Blocks uprising and of republican prisoner Bobby Sands (played with formidable force by Michael Fassbender), who died 66 days into a hunger strike.
The film depicts the hellish conditions in the prison, not only through the experiences of the hunger strikers but also through the prison wardens with whom they were in constant battle.




McQueen is best known for his film installations, which are usually projected on to gallery walls. One of the most famous of these is 'Deadpan', a recreation of a Buster Keaton stunt. Synopsis: Raymond Lohan wearily follows his normal routine: an ordinary man doing the job of a prison officer in the Maze Prison in Northern Ireland, 1981. Working within one of the infamous H-Blocks, where republican prisoners are on the Blanket and No-Wash protest, is a living hell for both prisoner and prison officer. A young, new prisoner Davey Gillen is brought into this environment for the first time. Although terrified, Davey resolutely refuses to wear the prison uniform – he is no common criminal. So joining the Blanket protest, he shares a filthy cell with another 'non-conforming' republican prisoner Gerry Campbell. Gerry, hardened to the horrific realities of Maze life, guides Davey through the daily routine, he trains him how to smuggle items and exchange 'comms' (communications) with the outside world, passing them on to their H-Block leader Bobby Sands at Sunday Mass. The prisoners are persuaded to take up the prison regime's offer of civilian clothes – a potential breakthrough in their struggle to regain political status – only for them to be mocked by the 'clown clothes' handed out. A riot erupts. In the mayhem, the prisoners destroy the clean cells they've been moved to. The riot is violently crushed with beatings and body searches. The violence spreads beyond the Maze; no prison officer is safe and Raymond is shot dead. Bobby Sands meets Father Dominic Moran. Once the initial humorous banter is out the way, Bobby reveals that he is going to lead a new Hunger Strike to protest for special category status for republican prisoners. The conversation immediately intensifies into a battle of words that illuminates the men's prisoners' determination to begin another Hunger Strike through the priest's questioning of motives and morality. Bobby's mind is unchanged and the strike will begin.
Steve McQueen
– Director / Screenplay
Enda Walsh
– Screenplay