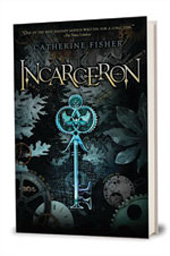 When you have a book that managed to get reviews like "This is a must have" or "One of the best fantasy novels written for a long time", you usually expect the logical next step – putting the same tale on the big screen, right?
That's exactly the thing that will happen with Catherine Fisher's novel Incarceron, and looks like Fox won a war for the rights to make a big screen adaptation.
Let's see what kind of project this will be. We already know the story.
Incarceron is a futuristic prison, sealed from view, where the descendants of the original prisoners live in a dark world torn by rivalry and savagery. Seventeen-year-old boy named Finn, tries to escape an elaborate futuristic prison world. But seems like he's not the only one that has bad luck.
On the other side, we have young girl Claudia, daughter of the Warden of Incarceron, that is also trapped in her own form of prison, a world constructed beautifully to look like the 17th century, but run by computers. Sounds pretty crazy already!
This prison looks so alive, like there's nothing around it, like that's the only thing that exists in their world. But, one day Finn finds a crystal key, and starts comunication with Claudia. She claims that there is "outhside", gives him the informations and offers him her help, so he decides to escape. And that's just the beginning of their hell…
A teaser trailer for the book has also been created. Check it out below.
So that's pretty much of the story, and, as we said, for the Fox, turning the young-adult dystopian fantasy into a franchise is going to be the priorety. Or, if you prefer – they are actually hoping for this movie to be something like Harry Poter.
Although there's no some official detailed report about the whole project, we heard that Fox enlisted John Palermo and High Jackman's Seed Productions to steer the first film.
We could call this risky business, but still, we should better wait and see for ourselves. In the meantime, we can't help but wonder – can Incarceron be the next Harry Potter?
[youtube]http://www.youtube.com/watch?v=c3N9QyolxGY[/youtube]