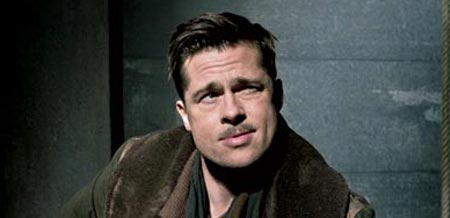 Last night's American Idol featured an exclusive clip from
Quentin Tarantino
's "
Inglourious Basterds
." Yes, this little clip aired during American Idol because Tarantino did actually appear on the show last night. The clip has some some great movie footage, behind the scenes footage, and your first look at
Mike Meyers
as General Ed Fench. "Inglourious Basterds" which is set to premiere next month at the Cannes Film Festival sees
Brad Pitt
as Lt Aldo Raine, commander of a unit whose mission is to kill and dismember Germans during the Second World War.
The movie also stars Melanie Laurent, Christoph Waltz, Daniel Bruhl, Eli Roth, Samm Levine, B.J. Novak, Til Schweiger, Gedeon Burkhard, Paul Rust, Michael Bacall, Omar Doom, Sylvester Groth, Julie Dreyfus, Jacky Ido, August Diehl, Martin Wuttke, Richard Sammel, Christian Berkel, Sonke Mohring, Michael Fassbender, Mike Myers, Rod Taylor, Denis Menochet, Cloris Leachman, Maggie Cheung and Samuel L. Jackson.
The movie is scheduled to hit theaters on August 21, 2009.