Movie News
James Bond 23 – Let's Get A Few Things Straight!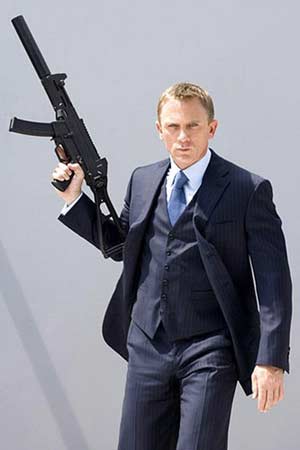 1)
When was the last time we heard something new about Bond,
James Bond?
I don't remember, so I guess now is the perfect time to have a little chat about this well-known franchise, and share some new details (call it rumors) about the whole thing. Somehow, Serbs are again attached with this report, so make sure you check out the rest of this report for more details…
2)
Let's get straight to the point with this one, shall we?
According to the latest reports, the 23rd James Bond film will be entitled
Carte Blanche
, which is a title of the latest 007 novel from
Jeffrey Deaver
. Ok, I already hear you saying – you, idiots, EON Productions officially denied Carte Blanche title rumours, but I still don't care, because I guess we're one of those
lazy movie news sites who continue to run the title 'news' for days to come
. And we don't give a shit, because we ARE interested in Bond franchise, and we want to hear something new about it!
3)
How everything started?
Well, blame it on the
BlicOnline
, Serbian newspapers, who revealed that a Serbian cellist named
Jelena Mihailovic
will have an opportunity to score the classic opening theme song for the film. That's exactly when that Carte Blanche thing showed up. Here's what they said: "At one of the many concerts the musician held in France during the Cannes Film Festival, the producers and the director of the next Bond film were in the audience, who were staggered by what they had heard and on the spot offered Jelena a chance to write the opening score for the new James Bond film, entitled Carte Blanche."
4)
Which leads us to…
the possible plot, thanks to
Wikipedia
's description of Jeffrey Deaver's book: "Bond starts his assignment on the outskirts of Novi Sad in Serbia where an Irish sapper-turned-enforcer named Niall Dunne is planning to derail a train carrying three hundred kilograms of methyl isocyanate, dumping it into the Danube. Bond is able to prevent the catastrophe by derailing the train himself at a much safer place along the line. He is unable to detain Dunne, who kills Bond's Serbian contacts in the course of his escape.
5)
True or false?
When we say rumor – we mean rumor. But wherever you have a rumor, you also have a possibility. And what's also important – you get the chance to annoy guys from EON Productions. In case they're reading this (sounds funny, I know) – it would be interesting to hear why are they even replying to those stupid rumors?
6)
As for that young lady
… Yeah, she actually exists. She graduated from the Belgrade Music Academy as one of the top students of her class, and after further education abroad and as one of the finest students, she was offered an opportunity to record an album produced by the Cultural Educational Union and the Affirmation Fund. And I definitely recommend you to check out this video…It's Hendrix's
Purple Haze
cover and it sounds great! [youtube]http://www.youtube.com/watch?v=j0z5vT6Q918[/youtube]