Movie Trailers
James Cameron and Andrew Adamson's CIRQUE DU SOLEIL: WORLDS AWAY Trailer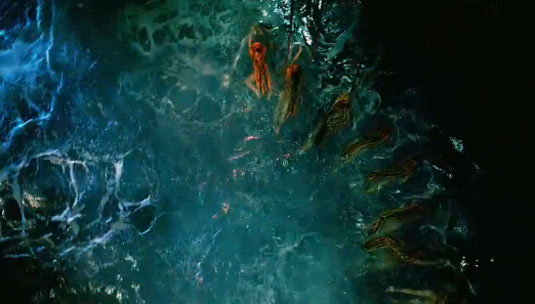 Why would anyone out there make a movie about
Cirque du Soleil
? Because he is
James Cameron
, for example? Ok, to be honest, it's not all about
Avatar
director and his obsession with 3D, because
Cirque du Soleil: Worlds Away
is actually written and directed by
Shrek
helmer
Andrew Adamson
. The good thing is that we finally have the trailer for the whole thing, and what should I say about it except – this looks awesome!
All you have to do is – step inside
. Man, this looks so magical, colorful and classy at the same time, that I really want to step inside! The movie incorporates elements from the Cirque du Soleil performances into a fictional narrative, and centers on a young woman who enters the fantastical world populated by characters and creatures featured in the company's Las Vegas shows. Fantastical, indeed! But if you ever watched Cirque du Soleil, then you're definitely not surprised by this trailer (remember that great performance at this year's Oscar ceremony, by the way?) Anyway, enjoy the video, and don't forget – Cirque du Soleil: Worlds Away 3D opens December 21st, 2012!