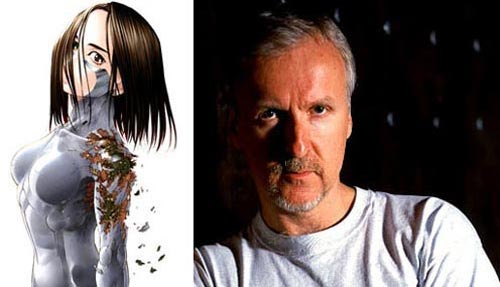 All James Cameron's fans out there – we have some great news for you!
The adaptation of manga Battle Angel is still happening!
We know you know, but let us remind you! There's the two part anime series, the videogame, and the nine-volume comic that the character first appeared in.
And, there will also be a live-action movie directed by Cameron, so we're here to have a little chat about that!
Cameron provided some updates on the Battle Angel film adaptation during Collider's interview on his upcoming Sanctum film, so pay good attention!
"I'm obviously going to be pretty busy for the next five years [with Avatar 2 and 3]," he said.
"And so I had to consider, do I hand this project off to another director? And then I thought, 'No, I love it too much. ' It's such a rich world.
What I'm going to do is take the spine story and use elements from the first four books. So, the Motorball from books three and four, and parts of the story of one and two will all be in the movie."
You probably remember what Cameron had to say about the whole thing last April:
"Battle Angel, I think, is a science fiction movie that begs the question 'What does it mean to be human?' It takes place in a future world, a world that has cyborgs, but are you human if you have a mind, if you have a heart, if you have a soul?
It's a journey of a young girl who tries to discover herself and what she learns upon that journey… I just love the character. Maybe it's from having daughters. I have three daughters, and thinking about what it's like, the main character is this little girl that everybody kind of ignores. She's got such a heroic heart on the inside, I've always loved that character."
And, for those who have no idea what we're talking about, the manga series is created by Yukito Kishiro.
The series is set in a post-apocalyptic seeting with Alita, a cyborg who has lost almost all of her memories and is discovered in a garbage heap by a cybernetic doctor. The doctor then proceeds to take care of her like his child.
The only memories remained were of the legendary martial art Panzer Kunst, which she would use those skills to hunt cyborg criminals and became a player in a brutal sport called Motorball.
The second Avatar movie is scheduled for release in 2014, with the sequel following a year later.
Presumably, Cameron will start work on Battle Angel some time after that, so, that means you should stay tuned in next 10 years!