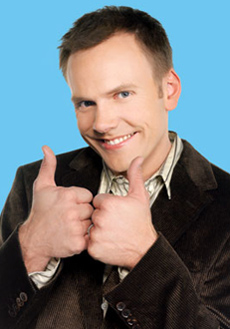 We already had
a little chat
about the upcoming
Robert Rodriguez
'
Spy Kids 4
. That's why you probably know that
Jessica Alba
will be in the movie, now titled
Spy Kids: All the Time in the World
. Today, we're here to add another name to this project, because "Community" star,
Joel McHale
, is in final negotiations to join the cast as well! So, we already know that Alba is lined up to play a retired spy in the reboot of the franchise, which originally starred
Antonio Banderas
and
Carla Gugino
, and that she will play "the mother of a baby and two older stepchildren who reactivates her spy career." McHale's character was previously described as "nerdy", and he will play "a spy-hunting reporter married to Alba's character, the stepmother to his kids." As we previously reported, the films also starred
Alexa Vega
and
Daryl Sabara
as the children of superspy parents (Banderas and Gugino), and it's expected that all of them will return in supporting roles. According to Variety, now we'll have the new kids pegged as Rebecca and Cecil. "Rebecca's not exactly supportive of her father's new partner, and utilizes her ingenious skills as a prankster to thwart her stepmother every step of the way. Cecil's a little less hard on Jessica, frequently asking his sis to cut her a break. Ultimately, Jessica and Rebecca have to put their differences aside when they're both called up for active-duty." We definitely expect to hear more details about the movie that will start shooting this month in Austin, Texas, with a budget of less than $30 million.