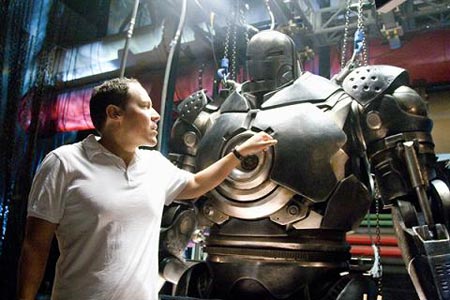 On Wednesday, Director
Jon Favreau
(
Iron Man
) joined a live chat on the
LA Times
' website, where he answered questions about the upcoming "
Iron Man 2
."
Jon Favreau (JF)
: We're playing with who the villain should be and what we should incorporate from the comic book. And how it will lead into The Avengers.
Question:
What stage are you in right now?
JF
: I'm working with Justin Theroux, a writer. He's writing the first draft of the script. I'm working with a storyboard artist as well as designing the costumes for good guys and bad guys.
JF
: Now that Marvel is making its own movies, every movie has to fit into the Marvel universe. The Avengers incorporates not just Iron Man, but Thor, possibly the Hulk and traditionally Captain America as well. As it is, it's scheduled Thor will come out the same summer as Iron Man 2 and The First Avenger: Captain America will come out a few months before Avengers. All the films have to come together to create a consistent universe. That's very important to everyone involved.
Question:
This summer, two of the best films of the season are superhero movies. Both Iron Man and The Dark Knight work because the directors [you and Christopher Nolan] honored the source material. Why do you think it's been so hard for so many previous directors of superhero films to understand that's the only approach that will work?
JF:
The reason superhero films [fail] is either the director was unfamiliar [with the] source material or the director chose to depart from it for personal reasons. Another reason is that the studios that had the rights to a particular franchise would never think twice about compromising the source material if thought it would enhance the commercial appeal.
JF:
I think it's important for all filmmakers working for Marvel to collaborate so there is a consistency in the films, so yes they should keep in touch. I had not been in touch really with Louis [Leterrier] during Hulk and I think that would have been helpful. I hope to be in contact with directors in the future.
Question:
Is The Mandarin still in the front running? That would be sweet, but I have trouble seeing that villain lead into The Avengers though.
JF:
Mandarin is still an important figure in the Iron Man universe. We have an interesting take on him that allows us to incorporate the whole pantheon of villains. The whole 10 Rings thing in Iron Man was a good tease for it.
JF:
No Dresden, but Marty and Elayne would make good supervillians.
Question:
What sort of issues will Iron Man 2 address? Anything relating to arms trading?
JF:
The sequel is shaping up to incorporate Tony's vision for the future. What happens after he says "I am Iron Man?"
JF:
I focus mostly on story and character. I put a great value on emotion, humor and natural dialogue. The effects are fun to explore in original ways, but without a strong story, they mean nothing.
Question:
Hello. Do you think Iron Man and The Dark Knight will change the way comic book movies are made?
JF:
The Dark Knight was a huge cultural event. It gave our genre a new found credibility. I have no doubt it will not be overlooked come awards season. Especially Heath. He was tremendous. So sad. We are very different films. They are similar as far as the underlying material, but are different in personality. I think they reflect the tastes of the filmmakers.
Question:
Will Nick Fury be in Iron Man 2?
JF:
Shield is important to the franchise, and what is Shield without Fury?
Question:
Jon, Was it your decision to cast Sam Jackson as Fury?
JF:
We all came up with Sam. I helped push for it.
Question:
Not to take anything away from the special effects, but I thought that Robert Downey, Jr. as Tony Stark made that movie. On another note, are we gonna get to see Rhodesy in War Machine Armor – C'mon, Shoulder Cannons!
JF:
We need War Machine. Agreed. Shoulder cannons and all.
Question:
Will Stark's substance abuse issues play apart in the next movie?
JF:
Stark has issues with booze. That's part of who he is. I don't think we'll ever do the Leaving Las Vegas version, but it will be dealt with.
Question:
Jon, before you were confirmed to be on Iron Man 2, you expressed concern about the date that Marvel chose for the sequel, especially before contacting you about it. Now that you are on, has the date changed or has your opinion about the date changed? Does it seem more realistic now?
JF:
The date is daunting. We are making much faster progress than the first time around and have much less to design and fewer casting issues. I am confident that 2010 is achievable if we continue working together as we have for the past few months. It has to be great, though. It has to be great.
Question:
Will you be bringing other comic book heroes to the big screen aside from Iron Man?
JF:
The only other comic character I would do is Groo.
Question
: Jon, I grew up a Marvel comics fanatic. Best memories as a child were collecting and riding the bus to Hollywood comic book stores. What is it like for you to actually bring a character like Iron Man to life for "real"?
JF
: Robert brought him to life "for real." I found a guy that embodied enough of the qualities of Tony Stark to imbue him with an emotional reality. Fergus and Ostby and Markum and Holloway added much to the equation as writers as well.
Question
: Your character in Iron Man was Happy Hogan, as a director that prides himself on remaining true to his source material, was there ever any debate to include the Happy Hogan/Pepper Potts romance?
JF
: Happy Hogan can no longer be a wall flower. I must marry Pepper someday. And let's not rule out the Freak! I have tremendous leverage to make such demands! Stay tuned.
Question
: Was using AC/DC's "Back in Black" your idea?
JF
: "Back in Black" was my pick. It cost a lot, but it worked.
Question
: Do you feel like there's more pressure on you to deliver with the sequel? Obviously, there's always a certain amount of self-pressure to succeed for any project, but the first movie was sort of under the mainstream radar. A second one won't.
JF
: Much more pressure to do well, but The Dark Knight took the spotlight off us. I would be happy to be Pepsi to their Coke for the next ten years. "The choice of a new generation!"
Question
: Sorry, haven't seen Iron Man yet, but the good people at Netflix said it should be in my box today! I love Made and watch it often, any upcoming plans with Vince Vaughn?
JF
: Yes. I'm writing Couples Retreat that will film at the end of the month with Vince producing and Peter Billingsley directing.
Question
: How difficult is it to pass your script off to someone else to direct?
JF
: I am thrilled to have Peter direct Couples. He has been a major force behind the scenes for both Vince and I since Made. He is also a dear friend.
Question
: What about a Swingers sequel?
JF
: Maybe a Swingers sequel in another 10 years. Like the Sunshine Boys.
JF
: Swingers seemed like hell at the time, but all of the challenges in getting it made pale in memory. It was a wonderful experience that tested us all.
Question
: Are you still attached to do Me and My Monster?
JF
: I am attached to Me and My Monster. Stan Winston reached out to me to do it a few months before he passed away. It was his passion project and I really love it and want to do it.
Question
: Anything happening with your involvement with John Carter of Mars?
JF
: Not involved with John Carter of Mars. Visited [Andrew] Stanton at Pixar. He's doing a great job. He will do a better job with it than I would have at that point in my career. Most importantly, after 100 years, it's finally getting made!
Question
: Speaking of The Dark Knight taking of the spotlight from Iron Man, have you seen the "I'm DC v.s. I'm Marvel" thing on YouTube? Up your alley?
JF
: I LOVE the Marvel/DC YouTube bits on Iron Man and The Dark Knight. Awesome. The Marvel guys love them too.