Movie News
Keira Knightley, Christoph Waltz, Michael Fassbender In Cronenberg's "Talking Cure"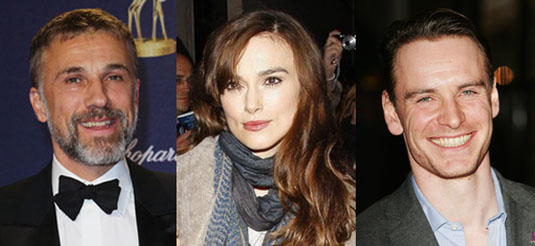 Keira Knightley will lead the cast of David Cronenberg's new film "The Talking Cure."
The Playlist discovered that Australian film company Hopscotch Films made an announcement on its Facebook page that Knightley will star alongside Christoph Waltz and Michael Fassbender ("Inglourious Basterds").
The drama, which is an adaptation of Christopher Hampton's stage play of the same name, set in the early 20th century is about Carl Jung and Sigmund Freud, the founders of psychoanalysis.
In Hampton's "The Talking Cure" from 2003 Ralph Fiennes played Jung on the London stage.
The story follows Jung and Freud and their relationship with a young Russian woman Sabina Spielrein who was his first patient.
"A beautiful young woman, driven mad by her past. An ambitious doctor on a mission to succeed. An esteemed mentor with a revolutionary cure. Let the mind games begin…"
So, it looks like Michael Fassbender will play Carl Jung, Christoph Waltz will play Sigmund Freud, and Keira Knightley will star as Sabina Spielrein.