Movie News
Keira Knightley New Movie/King Lear Cancelled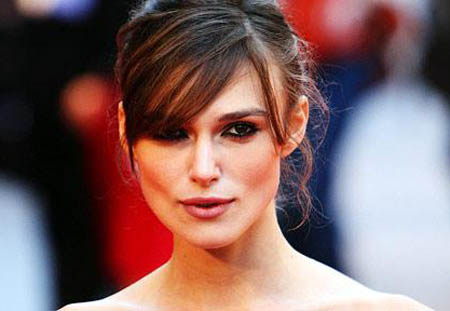 Keira Knightley
has signed up to appear in
Mark Romanek
's sci-fi project "
Never Let Me Go
." Knightley will star alongside
Andrew Garfield
and
Carey Mulligan
in the cloning-themed movie. The story revolves around a trio who grew up in a boarding school with no contact or knowledge of the outside world until they discover they are clones grown for the sole purpose of organ donation.
Alex Garland
adapted
Kazuo Ishiguro
's novel into the script. Shooting is expected to begin to London and Norfolk in April. It is Romanek's first feature since 2002's "
One Hour Photo
." Knightley also is attached to play
Zelda Sayre
, author and wife of
F. Scott Fitzgerald
, in "
The Beautiful and the Damned
" which will centre on the couple's troubled relationship. She will also star with
Colin Farrell
in "
London Boulevard
," a crime drama that marks
William Monahan
's directing debut and in the Columbia Pictures remake of "
My Fair Lady
" as the simple Cockney flower girl who is transformed into a lady. Unfortunately, "
King Lear
" – the British production of Shakespeare's tragedy – project announced at last year's
Cannes film festival
has been cancelled, despite A-list cast of Keira Knightley,
Gwyneth Paltrow, Naomi Watts
and
Anthony Hopkins
. Hopkins was due to play the ageing monarch, with Knightley signed up for the role of his youngest daughter, Cordelia. Gwyneth Paltrow and Naomi Watts were also on the cast list as the king's disloyal elder daughters, Regan and Goneril. A spokesperson for the film company said: "Ruby [Films] are no longer doing it – the film will no longer go ahead. Earlier this month, it was announced that
Al Pacino
and director
Michael Radford
will reunite to make their own adaptation of King Lear following their collaboration on "
The Merchant Of Venice
" in 2004. Pacino has never played Lear before, on stage nor on screen. Until now, he had always turned down Lear offers on the basis that he wasn't "ready". But producer
Barry Navidi
says that Radford "came up with the most brilliant adaptation and Al and I flipped for it." Perfect role for Anthony Hopkins, actually he's great actor so every role is perfect role for him. But, we'll see Pacino as King Lear, because he's ready now!