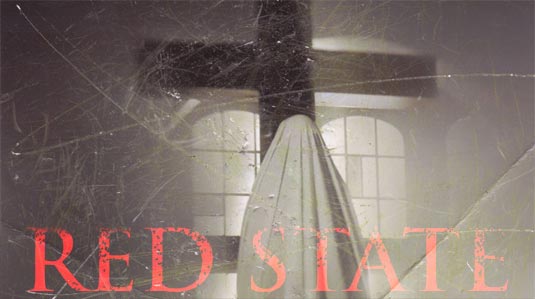 Kevin Smith unveiled the official teaser poster for his $4 million Red State political horror film starring Kyle Gallner, Melissa Leo, Dermot Mulroney, Michael Angarano, Steven Root, Michael Parks, and John Goodman.
The film, which Smith wrote and directed, tells the tale of a group who cross paths with some extreme fundamentalists.
Check out the poster in full and high resolution after the jump.
As an indicator of how the director feels about the film, take his description of the poster:
"Moody, weird, and pitch-perfect for the tone of the film," states Smith. "If I went out to an ad agency here in town, I'd be billed close to 20 grand for a campaign that'd maybe… maybe… include this poster. But this piece of artwork (I call it "The Holy Ghost") didn't come from a top-tier ad agency: Jon Gordon is my RED STATE producer, and this poster was created by his assistant, Melissa Bloom. So we've got a marketing image that was put together by someone who was on set every day, integral to the process that produced the film which inspired this image. This isn't the work of some gun for hire who's doing six other campaigns; we're not just one of many. The marketer is actually family, RED from pre-production all the way through wrap, so she's got an insight into the flick that no ad agency could ever boast (not even one-time Glo-Coat golden boy Don Draper over at SCDP). I'll take passion over pedigree any day."
No official release date has been issued, though the film is certainly headed our way next year.
[source: silentbobspeaks.com]

Red State Teaser Poster