Movie News
Kristen Stewart Or Carey Mulligan In The Girl with the Dragon Tattoo?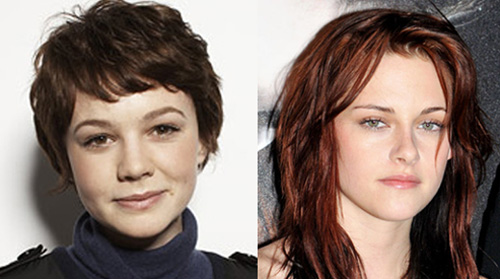 We already wrote about
Hollywood version of Swedish movie The Girl with the Dragon Tattoo
that will be directed by
David Fincher
. And we also mentioned that it's going to be interesting to see which actress will have an honour to play the lead role. Looks like that big-question-day has come! So,
Kristen Stewart
or
Carey Mulligan
, guys? We already know that the two of them competed for the Orange Rising Star Award at this years BAFTA and now, funny thing happens – they are rumored to be in a battle for the lead role in this film based on the
Stieg Larsson
trilogy! What are we suppose to write about now? Let's start with some official details. Kristen won the Rising Star award, Carey won the Best Actress in a Leading Role. We remember Mulligan from movies like
Pride and Prejudice, Public Enemies
, but she's definitely in our fresh memory from
Education
, while on the other hand we remember Stewart from movies like
Twilight, New Moon
, and her first major role in
Panic Room
. Oh, wait, is that the same Panic Room that was directed by David Fincher?! Yeah, yeah, that's it! Does that mean Stewart's closer to this role? Well, maybe. But let's face some other facts first. We all heard that this role is described as "edgy, sexy and demanding". No hard feelings guys, but is it just our imagination, or Mulligan looks kind of… softy for this kind of role? If you've read the books then you know it's a dark and intense character, so whoever gets it needs to be at the top of their game, and Stewart definitely looks like girl who can handle this job. Ok, you could wonder if she has enough depth for the role, but c'mon – when you know that Lisbeth Salander (
Noomi Rapace
) is covered in tattoos, constantly moody, and hard worker, who do you imagine first? Smiley – lady Mulligan, or ice – lady Stewart (well, it's hard to find five photos of her where she laughs)? According to a studio executive insider, "It's an edgy, sexy, demanding role which would have been perfect for
Angelina Jolie
– if she was only ten years younger…The very best twentysomething actresses around today are in the frame – and that's a very short list." We're definitely interested in this project, and we can't wait to see who will be the Girl with the dragon tattoo. Maybe we are completely wrong about our "feeling", so let the best one win, and you guys – stay tuned!