"Little Ashes," romantic story about the young life and loves of artist Salvador Dali, filmmaker Luis Buñuel and writer Federico Garcia Lorca is directed by Paul Morrison from a script by Philippa Goslett.
Paul Morrison's first feature film, "Solomon and Gaenor" was nominated for an Academy Award for Best Foreign Language Film.
For me, Little Ashes is first and foremost a love story, moving and tender. This is a forbidden love between two men that moves from a silent, aching longing to one incandescent and glorious moment of promise, only to end in rejection and disillusionment. García Lorca's love for Dalí gives the movie its shape, its dramatic spine. This is first and foremost an actor's movie, truthful and beautiful, intimate and spare. The performances dominate.
This is also a film about integrity. Encouraged by Magdalena, García Lorca keeps faith with his beliefs, his roots, his work and, eventually, his sexuality. Dalí chooses notoriety and success and a fantastic kind of elitism over deeper values.
These are universal themes, which a wide audience can understand and identify with. This is a film about artists but not a film about art.
The film vibrates with the fun and humor and anarchic excitement of their early lives and moves with them to a deep kind of knowledge, despair, beauty and eventually death; yet a legacy that lives on. The ending should not be without hope, for we know their art lives on.
The film is not a conventional period drama. The issues these men were confronting are incontestably modern.
said Paul Morrison.
"Little Ashes" was written by Philippa Goslett with colleague Moira Campbell. "Little Ashes" is Goslett's first screenplay. She is currently writing "Mr. Microscopic" for BAFTA award-winning director Michael Baig-Clifford. Goslett is also working on "Mantrap for Gaby Dellal" ("On a Clear Day") and "Isabella" for Claudia Solti.
In the midst of the repression and political unrest of pre-Spanish Civil War, eccentric artist Salvador Dalí and renowned poet and revolutionary Federico García Lorca find their artistic and sexual freedom in each other. The two form a bond challenged by their fierce ambitions, the struggle between a love for Spain and a love for each other.
"Little Ashes" stars Javier Beltran, Robert Pattinson, Matthew McNulty, Marina Gatell, Arly Jover, Esther Nubiola, Simón Andreu, Vicky Peña, Sue Flack and Bruno Oro.
No official release date has been set for "Little Ashes," but we can expect it to see it play in limited theaters during the first-half of 2009. The film's Web site promises that it will come to select theaters in 2009 and that it is rated R for "sexual content, language and a brief disturbing image."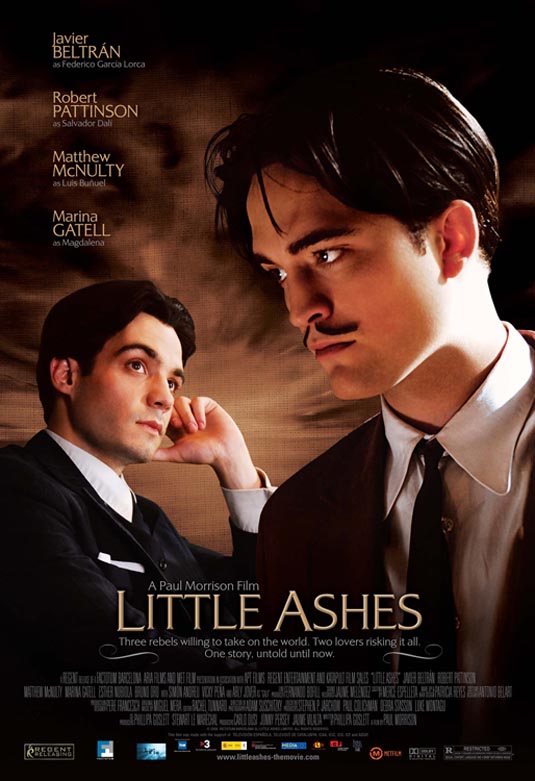 Clearly, Pattinson's "Twilight" follow-up will be a long way from Stephenie Meyer's best-selling young-adult novels, but his loyal fans are already eager to see if he will once again dazzle them.