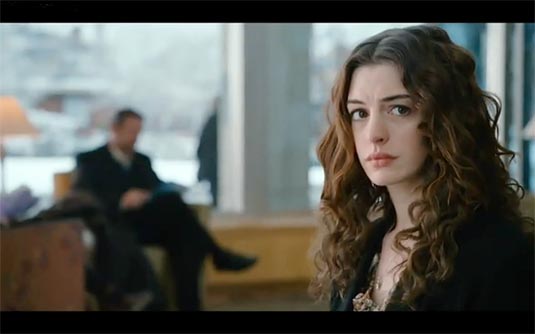 Earlier we posted the first trailer from the upcoming
Edward Zwick
film
Love and Other Drugs
and today another one has been released. In Love and Other Drugs,
Anne Hathaway
plays Maggie, an alluring free spirit who won't let anyone – or anything – tie her down. But she meets her match in Jamie (
Jake Gyllenhaal
), whose relentless and nearly infallible charm serve him well with the ladies and in the cutthroat world of pharmaceutical sales. But this isn't your typical romance flick, there's an underlying problem that both characters must face head on, Maggie's battle with a Parkinson's disease. Based on the novel "Hard Sell: The Evolution of a Viagra Salesman" written by Jamie Reidy, the film is directed by Oscar winning filmmaker
Edward Zwick
(Glory, Legends of the Fall, Courage Under Fire, The Last Samurai). He wrote the script with
Marshall Herskovitz
(The Last Samurai) and
Charles Randolph
(The Interpreter).
Love and Other Drugs
will be in theaters on November 24, 2010. [youtube]http://www.youtube.com/watch?v=URmXS7vvBgw[/youtube]