Movie News
Machine Gun Preacher Starring Gerard Butler Goes to Lionsgate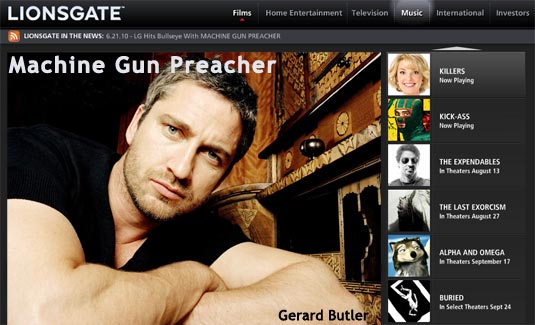 Lionsgate today announced that it has acquired North American distribution rights to the fact-based action drama
Machine Gun Preacher
, directed by
Marc Forster
(Quantum of Solace). The film is the studio's first collaboration with Forster since the Oscar-winning Monster's Ball.
Synopsis:
After renouncing his outlaw ways, Sam Childers embarks on a spiritual path, becoming a warrior for the desperate and helpless children in a war-torn country in Africa.
Gerard Butler
(Law Abiding Citizen, 300) stars as Reverend Sam Childers, known as "the machine gun preacher."
Michelle Monaghan
(Eagle Eye, Gone Baby Gone) co-stars as his wife, Lynn Childers; Oscar nominee
Michael Shannon
(The Runaways, Revolutionary Road) portrays Childers's best friend, Donnie;
Madeline Carroll
(The Spy Nex Door, Swing Vote) plays Childers's daughter, Paige;
Kathy Baker
(Last Chance Harvey, Street Smart) plays Childers's mother, Daisy Childers; and
Souleymane Sy Savane
(Goodbye Solo, Damages) plays Deng, Childers's right hand in Africa. The screenwriter is Jason Keller. Forster will produce under his Apparatus shingle alongside Robbie Brenner; Gary Safady and Craig Chapman of Kaushi Entertainment; and Deborah Giarratana of GG Filmz. Executive producers are Myles Nestel of Merlina Entertainment, Brad Simpson of Apparatus, Gerard Butler, Alan Siegel and Louise Rosner. The announcement was made by Joe Drake, Lionsgate Chief Operating Officer and Motion Picture Group President, and Mike Paseornek, Lionsgate President of Motion Picture Production. Said Paseornek,
"Machine Gun Preacher combines a fascinating, action-packed story and unique characters with great talent on both sides of the camera. We're delighted to be back in business with our friend Marc, one of the most gifted and versatile filmmakers working today. And Gerard Butler is the ideal actor to capture the strength, complexity and charisma of this film's real-life hero, Sam Childers."
Said Brenner,
"When I learned about Sam Childers, I thought, 'here is a man who is making a difference, defying the odds and not just talking about what he believes but actually doing it.' Seldom do you find a story that is gripping and relatable but is also about something bigger. Here was a movie that begged to be made. Jason Keller wrote an exceptional screenplay, and I can think of no one better able to depict this story than my dear friend, Marc Forster."
Said Safady,
"I am honored to play an integral part in telling the amazing story of Sam Childers. I think this is the perfect movie as a foray into the film business, as it is both commercial and topical. In today's society, stories like his are rare and this is one that deserves to be told."
Said Forster,
"I am thrilled to be working again with Lionsgate. They have a keen understanding for the complexity of the material and will give our film the care and guidance it needs to expose the story to the masses."
Principal photography for
Machine Gun Preacher
is scheduled to begin on July 5th in Detroit and South Africa. Lionsgate plans to release the film in fall 2011.