Movie News
Mad Men's Christina Hendricks Signed on to Star in Seconds of Pleasure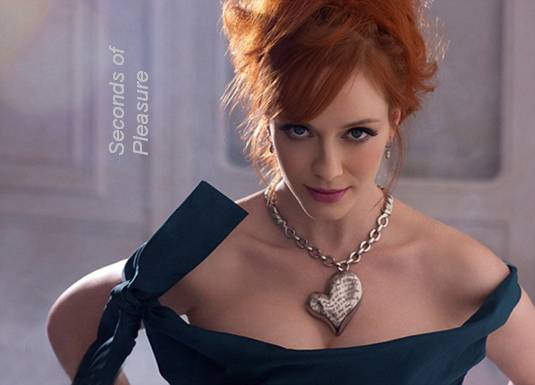 Mad Men star Christina Hendricks has boarded Seconds of Pleasure joining Brendan Fraser and Kristin Scott Thomas, alongside Julia Stiles and Matt Dillon.
Seconds of Pleasure has seen a bunch of changes and additions as it sets to go in front of cameras — the earlier attached Neil LaBute is now replaced on the director's chair with Mike Figgis (Leaving Las Vegas). But it will still develop his screenplay which seems to be based on his book of short stories with the same name. LaBute is also involved in producing the flick.
Seconds of Pleasure is situated mostly on an airplane and follows a series of sketches that connect the lives of the travelers. Seems kind of like Figgis' experimental Timecode (2000). Hendricks' character is a wedded woman who ends up getting caught doing something naughty by her husband. Brendan Fraser is signed on to be her spouse, and Julia Stiles, Matt Dillon and Kristen Scott Thomas are also lined up to appear.
The whole Brendan Fraser phenomenon makes me watchful, what with his track record, but that looks like a trustworthy cast otherwise. With a bit of luck this one will be good enough to lift Hendricks's profile up and get Figgis back on list of directors to beloved. And maybe it could even bring back some hope for Brendan Fraser. Yesterday I mentioned, he wasn't always a joke and he can act if he wants to.
Hendricks is currently filming comedy I Don't Know How She Does It opposite Sarah Jessica Parker and directed by Douglas McGrath, in US theaters TBA 2012.
First and foremost a TV actress, Hendricks has been making a venture into features in recent months during her vacations from playing Mad Men's office manager Joan Holloway, with a part in the Katherine Heigl-Josh Duhamel rom-com Life As We Know It and newly finishing a supporting role in Nicolas Winding Refn's  Drive, starring Ryan Gosling and Carey Mulligan.
I'm ready and willing to be a fan of Christina Hendricks. How about you?