Movie News
Marvel's Kevin Faige on How The Avengers Influenced the IRON MAN 3 Plot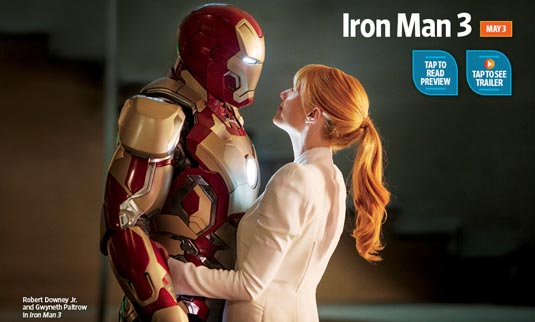 We reported yesterday
that
Iron Man 3
will be following in the footsteps of some of the previously released Marvel films to be given the IMAX treatment as part of its anticipated theatrical release. What's more, the international IMAX 3D release is scheduled for April 25th, which is just over a week ahead of the film's planned U.S. release in early May. Meanwhile, Marvel Studios head
Kevin Feige
told
MTV
in an interview:
"Robert Downey Jr. gave his all to this performance. He left no stone unturned."
He went on explaining just how the events from The Avengers influenced Tony Stark's behaviour and way of thinking:
"So much of the journey of Iron Man 3 is informed by Tony's experiences in The Avengers. It's almost like post-traumatic stress: he really has retreated after the events of The Avengers into his workshop, where he's building advanced versions of his suits. He has [designed] a version of the suit that can latch onto him in individual pieces … anytime, anywhere. As he starts to realize, it's basically because he doesn't want to be out of the suit: he's seen a lot of things in Avengers and has encountered a lot of powerful people, much more powerful than he is." "It brings us back to the Tony we met in the first part of Iron Man where he's removed from that convoy and brought to the cave with nothing but a box of scraps," Feige continued. "It's fun for all of us to watch Tony try to figure out how to get out of that scenario. Much of the movie is Tony in the middle of the country without his tools and a fairly broken suit to help him. But that's his superpower: he wasn't born on Asgard, he wasn't hit by gamma rays, and he doesn't have the super soldier serum. His power is his brain. It's fun to put Tony Stark in a corner with nothing and see how he can get out of it."
As for Tony's latest nemesis Mandarin (played by Sir
Ben Kingsley
), Feige said the comic book inspiration will come from a hodgepodge of different arcs:
"We felt there was leeway to explore the Mandarin in a way that hasn't been explored before," he explained. "We found we couldn't point to any sort of definitive Mandarin story in the comics – but if you print this, I'm sure a million fans will point to a specific story – so as we've done with many of the films, we did an amalgamation. The Mandarin is relentless: he's a non-stop threat, and you've seen that in the first teaser trailer when Tony Stark's house tumbles into the sea. He doesn't mess around, this guy."
And what of the future of Tony Stark? Is more Iron Man films a possibility following the second Avengers film?
"Characters like James Bond and Batman, whose stories go on and on and on – I think Tony is one of those characters," Feige said. "Where we go directly after Iron Man 3… I'm not looking too far ahead. I'm looking to finish Iron Man 3, getting into Avengers 2, and then seeing where we go from there. But I do think we have more Tony Stark tales to tell, and we'll take it one movie – or maybe two movies – at a time."
Stay tuned for updates!