Movie Photos
Matt Damon in the Very First Image From ELYSIUM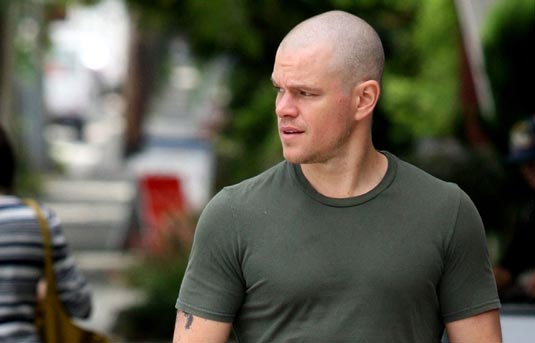 Until recently, we've known about Neill Blomkamp's Elysium, and at the same time we have no idea what to expect from it. But, that's all starting to change. Last week we learned that Blomkamp's follow-up to the Oscar-nominated District 9 would be showing its first footage at the San Diego Comic Con, but for those of you that can't wait until then we now have the film's first official still, thanks to The Playlist. It doesn't show much – just Matt Damon holding a BFG – but it does raise a few questions, like, "How cool is that gun and where can I buy one?!"
And just like District 9 tackled issues of segregation and xenophobia, the first synopsis for Elysium reveals that the sci-fi future-set story will be delving into the immigration debate. Synopsis:
In the year 2159 two classes of people exist: the very wealthy who live on a pristine man-made space station called Elysium, and the rest, who live on an overpopulated, ruined Earth. Secretary Rhodes (Jodie Foster), a hard line government official, will stop at nothing to enforce anti-immigration laws and preserve the luxurious lifestyle of the citizens of Elysium. That doesn't stop the people of Earth from trying to get in, by any means they can. When unlucky Max (Matt Damon) is backed into a corner, he agrees to take on a daunting mission that if successful will not only save his life, but could bring equality to these polarized worlds.
The movie co-stars William Fichtner, Diego Luna, Sharlto Copley, Alice Braga, Faran Tahir and Wagner Moura and will be released on August 9th, 2013.