Movie News
Matthew McConaughey in The Headhunter's Calling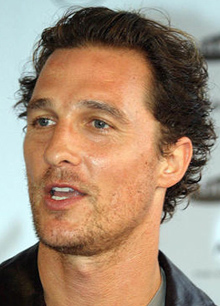 Now, this definitely comes as a surprise!
Matthew McConaughey's next project could be the indie drama titled The Headhunter's Calling.
Not much is known about this project at this moment, but, according to Pajiba, McConaughey is eyeing up the lead role of a workaholic headhunter in the drama from first-time screenwriter Bill Dubuque, in a story that follows:
"…a workaholic corporate headhunter who has alienated his family for years and lets his cut-throat business compromise his ethics in pursuit of financial gain, until he finds out his oldest has leukemia and decides that family is more valuable than anything else".
As usual, we'll be right back with every new update on this story.
In the meanwhile, for all McConaughey fans out there, he will next be seen opposite Marissa Tomei, William H. Macy and Ryan Phillippe in an adaptation of the legal thriller The Lincoln Lawyer which hits theaters March 18, 2011.