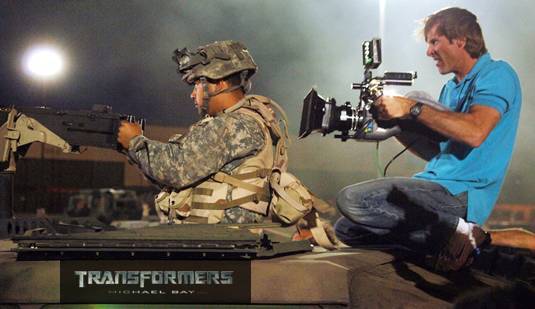 Michael Bay is in final talks to direct a new Transformers film, or, in the words of Megatron, 'The humans cannot stop him!'
If you were relieved Dark of the Moon would be the final Transformers film directed by Michael Bay, because if we had another, the shark would have been jumped, I must disappoint you. Bay has finally jumped the shark this time.
When Hasbro had announced that they and Paramount want to move forward on another movie, Bay said that he was done with the series. It's all about money of course, big money, and the latest reports go as far as saying that Paramount Pictures is close to finalizing a deal with the director.
The tentative plan is for Bay to start work on Pain & Gain early next spring, followed by Transformers 4 shooting in the winter. Speaking directly, only after he completes work on long-gestating project Pain And Gain.
Furthermore, the next Transformers movie, according to the article will not be a prequel as had previously been suggested. Indeed, another source of one of Dark Of The Moon's key players suggests that the fourth movie will dig out some fan-pleasing new characters.
Regular people might not care about bringing out a character like Sentinel Prime, but believe me, fans of the series cared.
And, believe it or not, Shia LaBeouf definitely won't be returning.
[youtube]http://www.youtube.com/watch?v=kHRf01Gjosk[/youtube]
Transformers 3: Dark of the Moon – Trailer
Source: NY Magazine