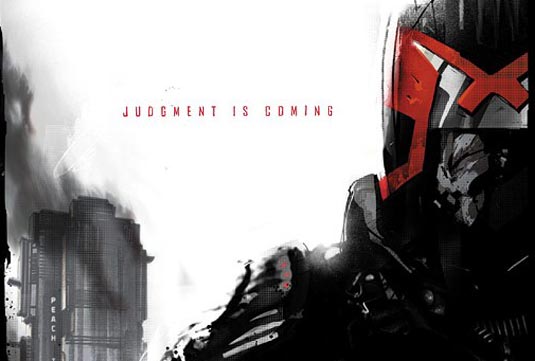 Mondo has released this awesome poster art for
Dredd
created by Jock, the artist who did lots of the story board work on the film. Directed by
Pete Travis
(Vantage Point) from a script by
Alex Garland
with John Wagner acting as creative consultant, and starring
Karl Urban, Olivia Thirlby
, 
Domhnall Gleeson, Langley Kirkwood, Francis Chouler and Deobia Oparei
, and
Lena Headey
, the upcoming film is adapted from the long running comic series 2000 A.D. The poster will be available to purchase at Fantastic Fest.
DREDD takes us to the wild streets of Mega City One, the lone oasis of quasi-civilization on Cursed Earth. Judge Dredd (Karl Urban) is the most feared of elite Street Judges, with the power to enforce the law, sentence offenders and execute them on the spot – if necessary. The endlessly inventive mind of writer Alex Garland and the frenetic vision of director Peter Travis bring DREDD to life as a futuristic neo-noir action film that returns the celebrated character to the dark, visceral incarnation from John Wagner and Carlos Ezquerra's revered comic strip.
Dredd
is scheduled for worldwide release on September 21st, 2012.
Tell us what you think of the Dredd poster in the comments section