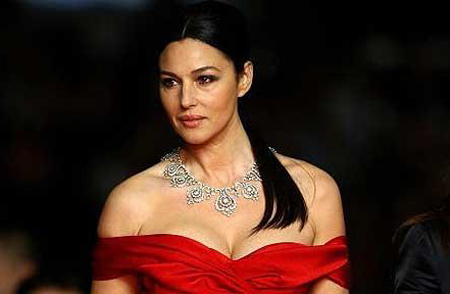 We already had a little chat about Manual of Love 3  that already has Robert de Niro attached to star.
Today, we're here for a little (lovely) update, because Monica Bellucci will join the cast of this Italian romance film!
Lucky De Niro, because the gorgeous actress is set to play his character's love interest…
Manual of Love 3 is the third film in the Italian franchise that takes a look at the joys and sorrows of love via several intertwined vignettes, and it will be De Niro's first foreign-language production for him since 1976, when he starred in Bernardo Bertolucci's "1900."
As we already mentioned, he'll play a divorced American professor living in Rome in one of the four chapters of the movie, and we also know that the role will be partly spoken in Italian.
Monica Bellucci will play the love interest of De Niro's character, and, just for a record, she also starred in Manual of Love 2.
In an interview with Variety, producer Aurelio De Laurentiis said that the first two movies have been successful in Europe making a combined total of $45 million at the Italian box office.
But now, he hopes that by casting the Oscar winner, the third movie will reach a wider audience, saying:
"This third one, with De Niro in the cast, will have greater international ambitions."
The movie will be directed by Giovanni Veronesi who directed the first two films, and shooting of Manual of Love 3 starts later this month at Rome's Cinecitta Studios.