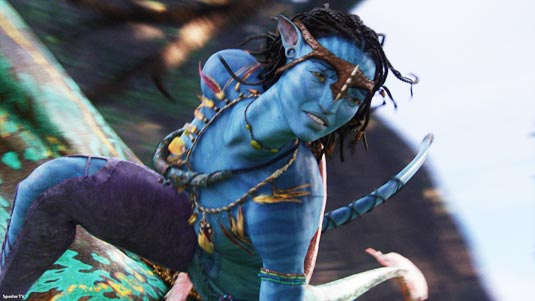 Movie Photo Gallery has been updated with six new photos from
Avatar
 movie  and they include more Na'vi action, as well as a few behind the scenes shots of
James Cameron
.
Avatar plot:
A wounded ex-marine
(Sam Worthington
) is sent to settle the planet Pandora against his will. He gets caught by the planet's natives, called Na'vis, and falls in love with one of them (Zoe Saldana). On their planet, he undergoes an experiment to transform into an avatar, another physical version of himself, which is a giant otherworldly creature who he can control through his mind. More than ten years in the making, Avatar marks Cameron's return to feature directing since helming 1997's Titanic, the highest grossing film of all time and winner of eleven Oscars, including Best Picture. "Avatar," which stars
Sam Worthington, Zoe Saldana, Sigourney Weaver, Michelle Rodriguez, Giovanni Ribisi, Joel David Moore, CCH Pounder, Peter Mensah, Laz Alonso, Wes Studi, Stephen Lang
and
Matt Gerald
, will be released on December 18th 2009.