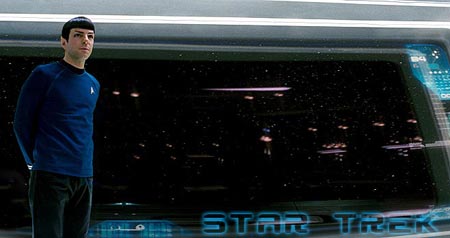 The upcoming issue of
Empire magazine
features a brand new Kirk and Spock cover with
Chris Pine
and
Zachary Quinto
and some more images of the new crew of the U.S.S. Enterprise. In addition to the photos, Empire also talks to director
J.J. Abrams
, who comes clean about one of his major obstacles on the film, the nature of which might surprise you:
"For me, the costumes were a microcosm of the entire project, which was how to take something that's kind of silly and make it feel real…How do you make legitimate the pointy ears and the bowl haircut? It's ridiculous and as potentially cliched as it gets. How do you watch Galaxy Quest and then go make a Star Trek movie?"
The film is directed by
J.J. Abrams
(Lost, Mission: Impossible III) and is written by
Alex Kurtzman
and
Roberto Orci
(The Island, Mission: Impossible III, Transformers, Transformers: Revenge of the Fallen), also stars
Eric Bana, Karl Urban, Simon Pegg, Anton Yelchin, John Cho, Winona Ryder, Bruce Greenwood, Rachel Nichols, Jennifer Morrison, Clifton Collins Jr.
and
Tyler Perry
, Star Trek opens May 8, 2009.