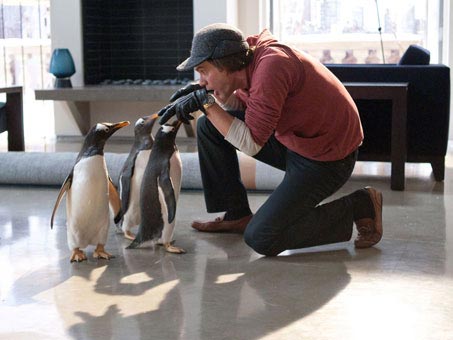 20th Century Fox has released the first teaser trailer for Jim Carrey's family comedy Mr. Popper's Penguins.
The film is an adaptation of a 1938 children's book. Mark Waters directs, co-stars Ophelia Lovibond, Philip Baker Hall, Andrew Stewart-Jones, James Tupper, Clark Gregg, David Krumholtz and Angela Lansbury.
Synopsis: In this family comedy, Jim Carrey is Mr. Popper, a driven businessman who is clueless when it comes to the important things in life – until he inherits six penguins. Popper's penguins turn his swank New York apartment into a snowy winter wonderland – and the rest of his life upside-down. Filmed on a refrigerated soundstage with real Emperor Penguins, Mr. Popper's Penguins is a contemporary adaptation of the classic book.
Mr. Popper's Penguins is  set to come out in theaters on June 17, 2011.