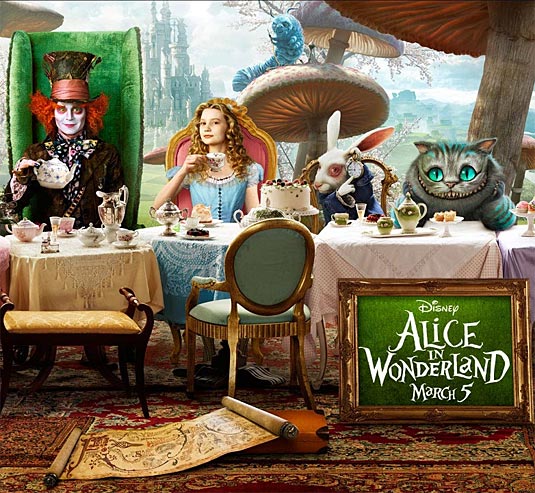 The Photo Gallery has been updated with new photos from the upcoming "Alice in Wonderland" movie. You can check out bigger versions of each by clicking them below.
From Walt Disney Pictures comes an epic 3D fantasy adventure "Alice in Wonderland," a magical and imaginative twist on some of the most beloved stories of all time. 19-year-old Alice, who returns to the whimsical world she first encountered as a young girl, reuniting with her childhood friends: the White Rabbit, Tweedledee and Tweedledum, the Dormouse, the Caterpillar, the Cheshire Cat, and of course, the Mad Hatter. Alice embarks on a fantastical journey to find her true destiny and end the Red Queen's reign of terror.
The film, directed by Tim Burton, stars Mia Wasikowska as Alice, Johnny Depp as the Mad Hatter, Helena Bonham Carter as the Red Queen, Matt Lucas as Tweedledee and Tweedledum. Michael Sheen plays the White Rabbit, Alan Rickman – Caterpillar, Christopher Lee – Jabberwock, Stephen Fry – Cheshire Cat and Crispin Glover stars as The Knave of Hearts.
"Alice in Wonderland" is scheduled to hit theaters on March 5th, 2010 in both Disney Digital 3D as well as regular 2D.