Movie Photos
New ANGELS & DEMONS Photos and Behind-the-Scenes Video
Two new photos from upcoming "
Da Vince Code
" sequel, called "
Angels & Demons
" has popped online.
ABC
also revealed a new behind-the-scenes video for the film. The video contains lots of footage from the film and a explanation of the
Illuminati
.
Tom Hanks
will reprise his role (
Da Vinci Code
) as the Harvard religious expert Robert Langdon.
Ron Howard
again directs the film, which is produced by
Brian Grazer, Ron Howard,
and
John Calley
. The screenplay is by
David Koepp
and
Akiva Goldsman
.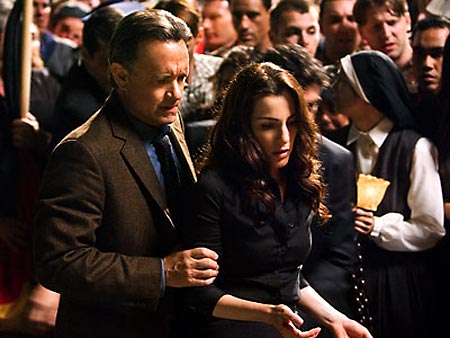 In the film Langdon discovers evidence of the resurgence of an ancient secret brotherhood known as the Illuminati – the most powerful underground organization in history – he also faces a deadly threat to the existence of the secret organization's most despised enemy: the Catholic Church. When Langdon learns that the clock is ticking on an unstoppable Illuminati time bomb, he jets to Rome, where he joins forces with Vittoria Vetra, a beautiful and enigmatic Italian scientist. Embarking on a nonstop, action-packed hunt through sealed crypts, dangerous catacombs, deserted cathedrals, and even to the heart of the most secretive vault on earth, Langdon and Vetra will follow a 400-year-old trail of ancient symbols that mark the Vatican's only hope for survival. The film also stars
Ayelet Zurer, Ewan McGregor, Pierfrancesco Favino, August Fredrik
and
Stellan Skarsgård.